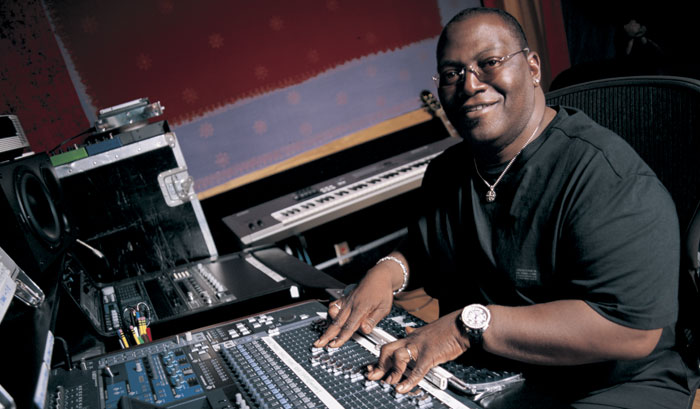 To the general public, he's best known as a judge for the TV show American Idol. But for those in the know, this is just the latest in Randy Jackson's impressive string of credits. From legendary session bassist to songwriter and record producer to artist manager and label vice president, Jackson boasts a seemingly endless list of accomplishments.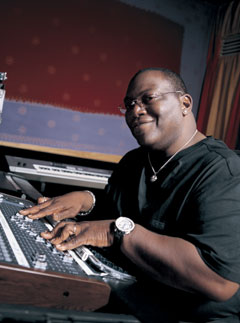 Jackson is typically modest about his achievements. "You gotta do something, you know?" he says. "It's all part of the same thing, which is what I'm happiest about in my life. It's all about great music and talent. Trying to find the best talent, like on the TV show, trying to produce some of the best talent, write songs and play with some of the best talent. Talent is the center of all of it."
The secret is to always mix things up so you never get bored.
His recent work with Mariah Carey illustrates how these activities intersect. Having co-written two songs and produced four songs on her latest record, Jackson is now acting as Carey's musical director, assembling and rehearsing the band for her current tour. "It's multi-tasking," he explains. "I'm at my best under pressure, with lots going on. I like to keep it fresh and have new challenges."
As a bassist, Jackson has played on innumerable releases, including hit records by Whitney Houston, Aretha Franklin, Madonna, Bruce Springsteen, and Elton John. "Being a session player was one of my dreams," he says, "But you continue to have dreams, and you want to grow-and that growth takes you to new areas and new highs. Going the route I have allows me to choose which projects I want to invest my time and heart in. Sometimes session musicians don't have that luxury. On the other hand, as a session musician I had the privilege of working with so many great producers. I was a sponge, soaking it up the whole time."
And how did those experiences shape Jackson's own production approach? "I'm definitely very hands-on," he replies, "but I also know when to let the process organically marinate. I think you need both of those sides to come up with a great record. You also need a fair bit of objectivity at all times. A lot of times when I'm producing records, I'll have someone else play bass, just to keep the overall perspective."
Jackson describes himself as a "high-tech low-tech guy." He explains, "I love digital audio, and embraced it right away. But if that doesn't work for me in a particular situation, I'll go back to analog. I'm always testing the new digital equipment against the analog."
These days Jackson uses a Yamaha 02R96 for songwriting and mixing. "When it first came out, I fell completely in love with it and thought, 'Hey, this is the way for me,'" he says. "I've found there's nothing I can't do with the 02R96. I'm a big Pro Tools user, and it ties in so well with Pro Tools. It's an incredible piece of gear, especially for the size, the affordability and the movability. " He laughs: "Not that I pick it up and carry it around myself!" But Jackson does have the compact board shipped from session to session.
Jackson praises the board's automation features: "It really helps me because I can save all my mixes and scenes, even rough mixes, in the blink of an eye. And I like the onboard EQ and all the reverbs. Some digital reverbs never quite sound like the real thing, but the 02R96 reverb is rich and realistic. Yamaha has been making good reverbs for a long time, so it makes sense."
Jackson is excited about the potential of 96kHz to improve the sound of recordings. "Our ears have been trained like for 100 years on analog tape. And trying to get that depth of expression in a digital world has been very interesting, especially when you're dealing with the sound of acoustic instruments. But I tell you, on something like guitar or voice, 96kHz gets a lot closer to the sound of analog. The difference is like night and day."
It's hard to predict Jackson's next musical move, and Randy prefers it that way. "You have to make sure that your musical expression is always fresh," he insists. "The problem with the session thing is that you can fall into a rut, using the same sounds and playing the same licks all the time. You multiply that by 200 or 300 records, and you're in a box. The secret is to always mix things up so you never get bored."
© 2023 Yamaha Corporation of America.