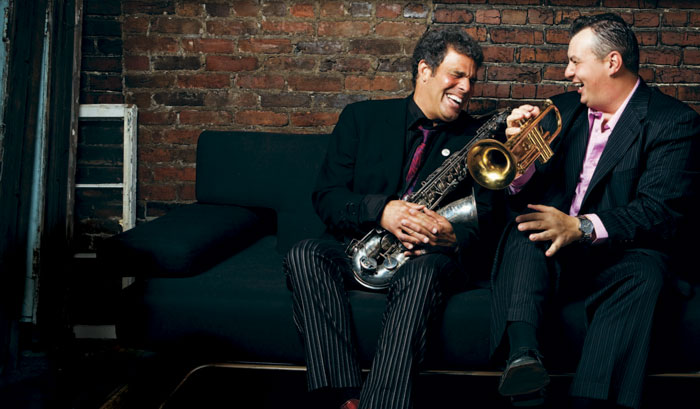 Few would label Billy Joel a jazz artist, but a love of jazz permeates his four-decade pop career. His songs are peppered with horn solos and sophisticated section charts. And a stellar horn section has been a cornerstone of Joel's live show for decades.
Mark Rivera has been Billy's sax man for over a quarter of a century. These days he's joined onstage by trumpet virtuoso Carl Fischer. Both are gifted multi-instrumentalists: Rivera sings and plays guitars and keyboards, and Fischer excels at flugelhorn, sax, and trombone.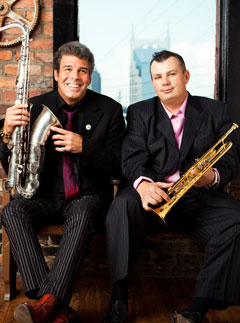 Though they're both powerhouse players, Fischer and Rivera come from different musical worlds. Brooklyn-based Rivera's roots are in bar-band rock-and-roll. "I wouldn't call myself a jazz player by any stretch," he says, "but I do play from the heart."
I wouldn't call myself a jazz player by any stretch, but I do play from the heart. -- Mark Rivera
In contrast, Long Islander Fischer boasts an impressive jazz pedigree. "I played for 12 years with Maynard Ferguson, the great jazz trumpet player who died a few years back," he says. "I was also fortunate enough to do the first tour in 1992 with the Lincoln Center Jazz Orchestra, directed by another great trumpet player, Winton Marsalis. I turned 21 on that tour." Fischer has also recorded two albums with his own group, the Carl Fischer Organic Groove Ensemble.
Both players hail from musical families. Fischer's father and grandfather were trumpet players: "They loved Maynard, Miles Davis, Clifford Brown, Louis Armstrong, all the greats," recalls Carl. Meanwhile, Rivera's father sang with Latin bands and played guitar. "I used to pick out melodies on his guitar," says Mark. "I started taking saxophone lessons at eight, but then the Beatles came out. They didn't have a saxophone player, so I immediately bought a bass guitar. I also learned keyboards."
Those multi-instrumental skills come in handy on RIvera's other high-profile gig as longtime music director for Ringo Starr's All Stars. "That's one of my greatest joys," he says. "I mean, have you ever told a member of Cream that he had his part wrong? Or tell Peter Frampton he was singing the wrong harmony to a Beatles song?" Mark chuckles. "I did."
Rivera also made his mark when he helped create the classic horn parts on Peter Gabriel's "Sledgehammer." "Wayne Jackson from the Memphis Horns and I were in the Power Station with Peter Gabriel and Daniel Lanois," he says. "At that time, the track was just rhythm section with some little synth and guitar things. There wasn't even a chorus. They said, 'Come up with some lines.' When we hit the downbeat, Peter's eyes bugged out. That first line just came right out of me, and it became the core of the song."
Fischer and Rivera both play custom Yamaha horns. "My trumpet is a masterpiece," raves Carl. "Wayne Tanabe at Yamaha Artist Services put it together for me. I first used it when I was playing for Moving Out, Billy Joel's Broadway play. It combines aspects of several Yamaha trumpets, and it was beautifully engraved by Yamaha's Tomoji Hirakata. I have quite a collection of old trumpets, but my Yamaha does everything they do, only a lot more efficiently. Tonally, I can go different places very quickly--it's like a finely tuned sports car. It's the best trumpet I've ever played. Now we're working on a flugelhorn together, and we're also planning to do some trombones."
Billy is very cognizant of having musicians bring to the table what they do best. -- Carl Fischer
"I first tried Yamaha saxophones back in '83 when I was playing with Simon & Garfunkel," recalls Rivera. "They didn't work for me at first, but a few years ago I spoke with Yamaha's Chris Gero, and they sent me a prototype unlacquered horn. The first night I got it, I played it in front of 20,000 people with Billy Joel. No other horn plays as hard -- it just kills. It has a huge, hard, rock-and-roll sound. It's bright, but with a big core. I also have two Yamaha altos and a soprano. When my sax tech tried my Yamaha soprano, she said it was the finest instrument she'd ever played."
Both players relish the fact that Joel allows them stylistic freedom onstage. "I get to play a solo for 20,000 people every night on Billy's song 'Zanzibar,'" says Fischer. "The original version features a solo by the great Freddie Hubbard. I stick to it ninety percent, because it's hard to beat. But for the other 10 percent, I put my own vibe on it, and on the end of the song there's an open vamp where I just blow, doing my stratospheric, high-energy thing. Some nights are great, some nights I strike out, but that's the element of jazz that Billy likes. Billy is very cognizant of having musicians bring to the table what they do best. That's the sign of a great bandleader."
(Photography Credit: David Bean)
© 2023 Yamaha Corporation of America.