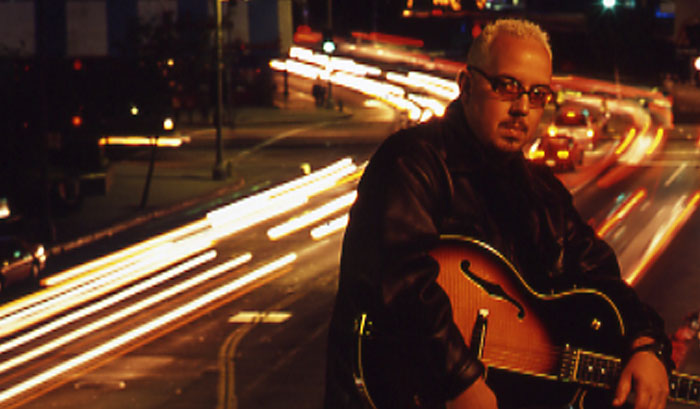 George Pajon, Jr., of the Black Eyed Peas, is that rarest of hip-hop birds: a realtime, flesh-and-fingers guitar player. His creative fretwork and strong stage presence have helped cement the Peas' reputation as one of the genre's most exciting live acts. While many hip-hop groups get their groove exclusively from programmed beats, a Black Eyed Peas gig features generous doses of live instrumental improvisation. "The Peas like to have a lot of freestyling onstage," says Pajon, "so between every song we make up grooves on the spot."
Pajon, a self-taught player who grew up listening to such greats as Stevie Ray Vaughan and Carlos Santana, co-wrote the Peas' latest album, Bridging the Gaps. His parts lend the tracks a warm, organic feel and provide a string of evocative colors. One moment he's laying down smooth, vintage jazz comps, the next he's unleashing a picante Latin groove or conjuring the spirit of '60s psychedelia. and on "request line," the album's lead single, Pajon complements Macy Gray's guest vocal with a snaky electric sitar line.
"There is a lot of '60s and '70s vibe in my playing," agrees Pajon. "In many ways I do what a player of an earlier generation might have done, but probably with tighter rhythm. some people think it's bad how the newer generation of musicians plays so tightly from having grown up with drum machines and loops, but I like that sort of real exact rhythm. I partly agree with the drummers who say that laying back deliberately is becoming a lost art. But if you have the ability to really lock in with the drums then you can choose whether to play tightly or with a looser feel."
Pajon often pursues both avenues on a single track. "When I layer guitar parts," he says, "I like to have the first one be real tight, but have the second one lay back a bit. One thing I'm trying on the record we're working on now is doubling parts with slide, which makes them lay back even more."
In fact, Pajon suggests, the entire tight/loose tide may be turning as many of today's programmers try to replicate the imperfections of realtime playing. "A lot of the programmers I'm working with these days are deliberately keeping that looseness in their feels. They don't necessarily quantize all the beats. But either way, the guitar can be the glue that holds it all together."
Pajon crafts his high-contrast tones with an assortment of Yamaha guitars and amps. He's a big fan of the wide-bodied AES1500. "I used it for most of my parts on the first Peas album I did," he says. "It's completely vintage-sounding. But my most vintage-sounding guitar is my AEX1500. there are so many ways you can record it- miked acoustically, or with different combinations of mic, pickup, and piezoelectric." another favorite is a Yamaha Custom Shop Drop-6 baritone guitar. "I tune it down to B," says Pajon. "I like to use it for that old-fashioned, tuned-down country sound, and it's incredible for doubling parts."
Pajon's principal amps are a Yamaha DG100 combo and a DG130H head. "I like playing through two amps in stereo," he says, "with one amp dry, the other with effects. I usually mic them if I want a warm, vintage sound, though the line-out sound is really good too. I've also been recording with some of the programs on the DG stomp guitar preamp."
But Pajon's most memorable piece of gear is probably his Yamaha Custom shop AES800-a transparent ax cut from a thick slab of Plexiglas. "The sound is incredible," says Pajon, "but it weighs 32 pounds! The Yamaha guys thought I was crazy, because it's like wearing several guitars at once. But I think of it like a baseball player who swings a few bats around as a warm-up."
But Pajon wears the guitar for all nine innings. How does his shoulder feel? "That's another story," he laughs. "Actually, it's not as bad as you might think. I have a real wide leather strap. It would be cool to have a Plexiglas AES1500 too, but if I were playing that, I'd probably be in a wheelchair right now."
© 2023 Yamaha Corporation of America.