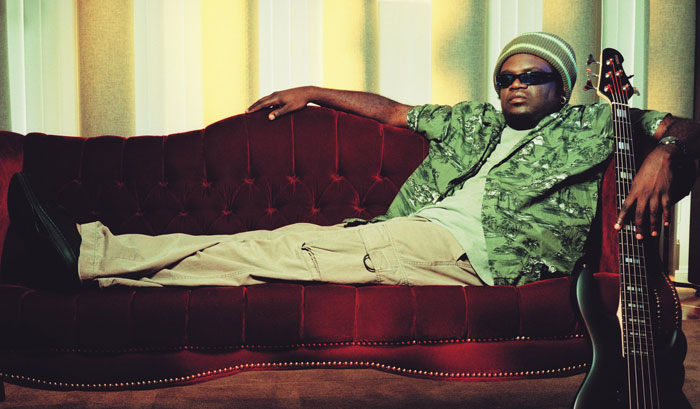 It's difficult to write about Tommy Sims without wearing out the slash key on your word processor. Too bad there's not a more graceful way to write "producer/singer/songwriter/bassist/guitarist/keyboardist/drummer."
Fortunately, Sim's talents sound much smoother than they read. Since getting his first big break as Bruce Springsteen's bassist, the Chicago-born musician has produced and/or written material for the likes of Garth Brooks, Wynonna, Eric Clapton, Amy Grant, Blackstreet, Bryan White, the Neville Brothers, Michael Bolton, and CeCe Winans. Meanwhile, Sims has managed to record a heartfelt solo album, Peace and Love. He recently spoke about his megafaceted career.
What's the most rewarding gig: sideman, songwriter, solo artist, or producer?
They are all aspects of the same thing. The real gratification is simply the joy of making music. What does change is the level of intensity. Of all the things I've been fortunate enough to dabble in, producing is the most intense. Producing entails the musician side, the writing side, and having to oversee every facet of the process from conception to completion. Meanwhile, you get everybody's emotions, everybody's critique. You get them from the artist, the label, the songwriter, the musicians. [Laughs.] Taking on every facet is intense, man.
How did you ever find the time to cut a solo album?
The opportunity arose when I was least prepared for it. I wasn't even thinking about it, even though sometimes when I'd come in to pitch a song I'd written, people would say, "You should just record it yourself!" In the end, the president of Universal Music had to persuade me to make this record, as opposed to the other way around.
How do you describe the music on Peace and Love?
Life and soul music. My style is honest, down-to-earth, raw, true-to-life. The album is driven purely by human beings - no drum machines, no sequencers. I've included songs that I've written over the past 15 or 20 years, songs that had no other homes. I loved them enough to want to see them come to light.
You've succeeded in rock, country, pop, R&B and Christian music. Does your style naturally suit all those genres, or do you have to redefine yourself for each one?
Well, I think that one of the best things producers can do is remove some of their own opinions from the process. You have to come to each situation as a servant, separating your ego from the process. That can be tough. Your gut instinct might tell you something is a great idea, but if the artist isn't feeling it, you just have to separate yourself from that gut instinct.
I suppose you can't just say, "What's your problem, fool?"
Exactly. You have been hit with another perspective - and a fairly important one, given that it's the artist! [Laughs.] You can't just say, "Aw, just let me do my thing, you'll see what I'm talking about." You have to be very objective.
You're a Yamaha 02R user.
Big time. The 02R mixing board has been at the center of my work for four years now. Before that, I was a tried-and-true analog guy, but as soon as I got into the 02R I found it to be pretty doggone user-friendly. Of course, the advantages over analog are incredible. One huge one is the ability to recall mixes. That's especially important for someone like me, who is always working on many projects at once.
How do you rate the sound quality?
It kicks butt! It sounds much better than any of the other digital consoles I've worked on. The dynamics and EQ sections are fantastic, and I've had nothing but good fortune with the onboard effects. They're pure-sounding, entirely unclouded. At this point, it's very trying for me to have to go back and work on a non-digital desk.
So is this the career you imagined for yourself back when you were a kid in Chicago, singing and playing in church?
Music is the only thing I ever wanted to do, and I've done more than I ever dreamed of. Yet I have a very difficult time thinking of myself as "successful." There is so much that I haven't accomplished yet. I have so much more to learn.
© 2023 Yamaha Corporation of America.