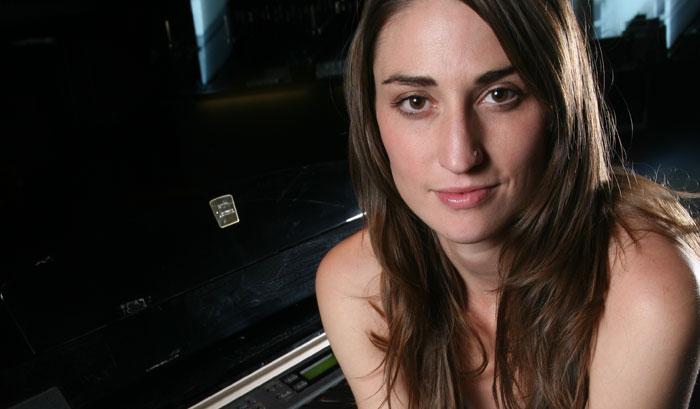 Singer-songwriter Sara Bareilles struck sonic gold with her 2007 major-label debut, Little Voice. The initial single, "Love Song," was first selected as an iTunes free single of the week, and then featured in a commercial for online music service Rhapsody.com. Before long, the newly minted star was opening for James Blunt and Maroon 5, and appearing on programs like The Today Show and The Tonight Show with Jay Leno.
The origins of Sara's musical success can be traced back to starring roles in high-school musicals and community theater productions in her Northern California hometown of Eureka. Later, as a communications major at UCLA, she performed with student a cappella group Awaken while continuing to refine her songwriting craft. After graduation in 2002, she performed at Los Angeles clubs and bars, recording several demos in addition to an independently produced disc, Careful Confessions. Her confident pop voice and strong songwriting chops eventually caught the ear of Epic executives, and she signed with the label in April 2005.
I don't think we'll ever completely understand what makes a song a hit. That's part of what I love about music."
As record labels will do, Epic pressed Bareilles to write a hit love song for the new album. Her response was "Love Song"--which, ironically, includes such defiant lines as, "I'm not gonna write you a love song 'cause you ask for it." Regardless of its inspiration, the song soared on radio, selling more than two million copies and reaching Number One on iTunes, the American Top 40, the Canadian Top 100, and the Billboard Hot 100, Pop 100, Hot Adult Top 40, and Hot Adult Contemporary Tracks charts.
When she's not enjoying the view from the top of the charts, the 28-year-old singer is hard at work preparing for a 2008 summer tour supporting Counting Crows and Maroon 5. Bareilles will also be headlining her own tour of the United States this fall, equipped with her Yamaha CLP280 Clavinova digital piano and CP300 stage piano. "I'm thrilled," she says. "We'll get to play venues that I have been hoping to play forever. And after that, I'm hoping to be able to think about what comes next from a recording standpoint."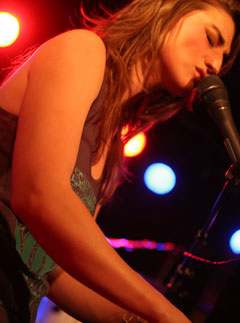 You've seen incredible success with the first single from your first major-label record. What made you want to create music in the first place?
I'm not sure exactly. I think I've always felt drawn to the way music makes me feel as a listener. Creating it seems to bring a whole different kind of rush and exhilaration. I must have felt that as a little girl when I started writing, and it's only grown since.
What kinds of experiences or insights inspire you to write these days? Have your inspirations changed over time?
These days I'm inspired by change. I think that theme is fairly prevalent in a lot of sophomore records. So much in my world is shifting now, and I feel like I'm trying to keep up. I can only imagine that this sense will come through in the music that I write now.
What instrument do you generally write on? Do you tend to have a melody or words already in mind, or do you just play until something clicks?
I usually write on piano, and a lot of the time I start with a pretty blank canvas. I may come to it with an idea of a rhythm or a melody line, but I am sort of fascinated with what happens when I sit down with absolutely nothing in mind. I think that's also why I'm a slow writer. I'm better at starting songs than finishing them.
What do you think makes a song a hit? For example, what makes people respond to "Love Song?"
I don't think we'll ever completely understand what makes a song a hit. That's part of what I love about music. There is an innate mystery to the process, and sometimes a very successful song comes in an unusual form. I'm not sure exactly why people have responded to "Love Song," but I hope that it's because it's honest. I feel very passionate about the fact that my music is, if nothing else, honest. I sincerely hope that people can connect with that.
You studied communications at UCLA. Are you able to apply any aspects of what you learned in school to your current career?
Studying communications is, in many ways, about taking very commonplace phenomena and human habits and giving them names. We spent a lot of time studying things that we seem to naturally understand, and then went deeper into the subject. I think songwriting is essentially the same thing. It's taking a human emotion and giving it a voice.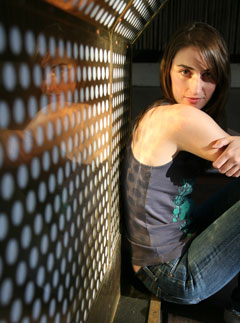 Speaking of communication, what's unique about music as a vehicle for self-expression, relative to other media?
I think music is so unique because it is always changing. The same emotion can be expressed in an infinite number of ways, and music is infinite. I also think that is why music as a medium is truly universal.
You play several Yamaha keyboards, including a CLP280 Clavinova digital piano and a CP300 stage piano.
Yes, I use these keyboards for everything--writing, recording, shows, and simply messing around. I use the Clavinova for live shows, and we used a 7'6" Yamaha C7 Concert Collection Grand for the album. I also used the P120 onstage forever.
Why did you choose these particular keyboards?
Yamaha is incredibly consistent, and the classic sounds are the best I've found. They really do sound great, both onstage and at home. With so many elements up for grabs in live performance, it's nice to know that Yamaha helps me keep my sound consistent.
You also have a U1 upright piano. Do you tend to prefer uprights to grand pianos for your music, or does it depend upon the context?
I like the brightness of an upright, but I guess I would say it depends on the context. To be honest, I don't have the option of a grand piano until I get a bigger apartment! When I can fit a grand piano into my house, I would definitely love to get one.
After this year's touring season has wrapped up, what's in the future for you? Are there any aspects of music or production you'd like to get more involved in?
I would love to have a future that includes many more albums and many more tours. I can see myself getting more involved with production, and eventually I would like to start a small record label of my own. I aspire to a career that gives me the freedom to keep exploring and challenging myself to get better.
Clearly you've already struck a nerve among millions of listeners with "Love Song." What kinds of responses do you hope to inspire in the people who hear your songs?
I hope that people listen to my lyrics. I take my writing very seriously, and putting my words together is one of the things that I spend the most time on. I hope that their honesty comes through, and people can see that I'm really trying not to hold anything back.
(Photography Credit: Pat Pope)
© 2023 Yamaha Corporation of America.