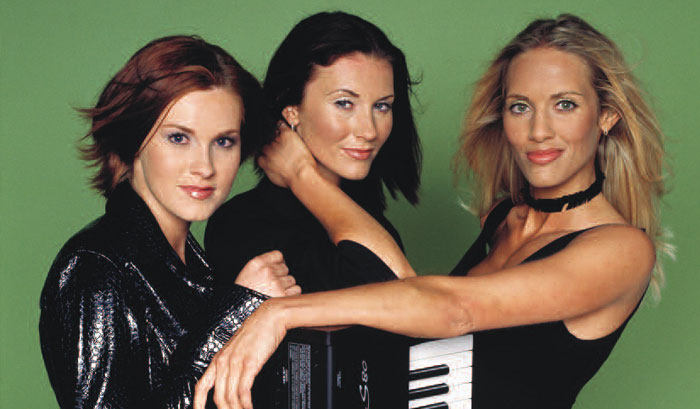 For SHeDAISY, success came at the best of times and the worst of times. Their debut disc arrived last year just when the industry was of a mind to get behind a new female pop-country trio. The good news: The Whole SHeBANG sold over a million copies. The not-so-good news: After a decade of dues-paying, SHeDAISY had to endure endless comparisons to another new female pop-country trio.
But those SHeDAISY/Dixie Chicks comparisons are downright silly. The immaculately crafted pop of sisters Kristyn, Kelsi, and Kassidy Osborn bears little resemblance to the Chicks' bluegrass-flavored stylings. And while SHeDAISY records in Nashville, they aren't even from the South-the Osborn sisters were born and raised in Magna, Utah, near Salt Lake City. Melding pop and country is hardly a new idea, but few acts do so as smoothly as SHeDAISY. It's no surprise to learn that the sisters grew up listening to the Beatles, the Beach Boys, and classic show tunes. Their best material manages, in similar fashion, to play by the pop rulebook without being formulaic. Almost every track on The Whole SHeBANG packs its little surprises: an unexpected melodic spiral, a quirky vocal harmony, a sudden flash of sly, sarcastic wit.
Part of SHeDAISY's magic is that strange sibling-singers chemistry, the hard-to-define quality that makes acts like the Beach Boys and the Everly Brothers truly sound bound by blood. But perhaps even more central to the group's success is the songwriting skill of elder sister Kristyn, who, with a large cast of collaborators, penned every tune on The Whole SHeBANG. We recently asked Osborn about her songwriting techniques.
You play both piano and guitar?
Both Kassidy and I play guitar, and all three of us play piano. But I do most of my writing on a Yamaha acoustic guitar.
Why is that?
I sometimes have trouble finding a groove at the piano, so I usually use guitar for groove-oriented songs. When I compose on the piano, it's usually ballad-driven. Plus, it tends to be more convenient to haul a guitar to appointments than a keyboard!
Your main acoustic guitar is a Yamaha CPX-15E. What do you like about it?
Besides its aesthetic beauty, it sounds incredible. I'm very impressed with the electronics as well. The tone is as great unplugged as plugged in. It's the guitar I write on, and I'm so accustomed to the feel and sound that it's my first choice for the stage, too.
You also have a couple of AES1500 and AES1500B electrics.
Yes. I really feel Yamaha hit the mark with the AES1500 series. It exceeds my expectations on all levels. If I could have my absolute dream guitar, there's only one thing I'd want to add: make it a chameleon guitar that changes color to match my wardrobe. [Laughs.] That's every girl's dream, trust me.
Do different emotions come out on acoustic and electric?
Obviously, electric evokes more aggressive emotions, therefore I try to create more on acoustic, simply because I want to create the core-the essential song-in its purest form. After that, I can add the colors with electric instrumentation.
What about the songs that you do compose on keyboards?
I write those on a Yamaha S80. Kelsi has one, too. Before that, I'd been writing on a small keyboard without weighted keys. The S80 has weighted keys with a feel very close to a real piano, which is my preference. The S80 sounds are as realistic as any I've used and the instrument seems to be pretty simple and user-friendly, though I admit that there are a lot of features I haven't had time to explore yet. The feel is what really sold me.
You worked with Dann Huff on The Whole SHeBANG. Besides being a great producer, he's one of the world's most respected studio guitarists. Did you pick up any tricks watching him work?
Honestly, I am usually in such awe when Dann plays that I lose all focus! But one thing I have taken away from long hours in the studio with him is the importance of a producer being able to communicate with the players in "musician speak." Dann understands the studio guys, and he really has a knack for bringing out the best in them.
Are you the sort of writer who hears tunes in your head first, or do you tend to find them under your fingers on the instrument?
For me, songwriting has absolutely no formula. It's unpredictable, and that's what's so compelling about it. I love the sheer nonsensical methodology that I have adopted. It keeps the process fresh and creative, though it probably drives my co-writers crazy! But in the end, the most important aspect of songwriting is not how you go about it, but how honestly you relay a message to the listener. It can be simple, it can be complicated, but it's got to be honest.
Can an instrument inspire a song?
The songs start in the soul, the mind, the heart, and are then translated by the instrument. We speak through instruments. We tell stories through melody. We emote through lyrics. All these things are created by and through a songwriter and, if we are lucky, a little divine inspiration.
© 2023 Yamaha Corporation of America.