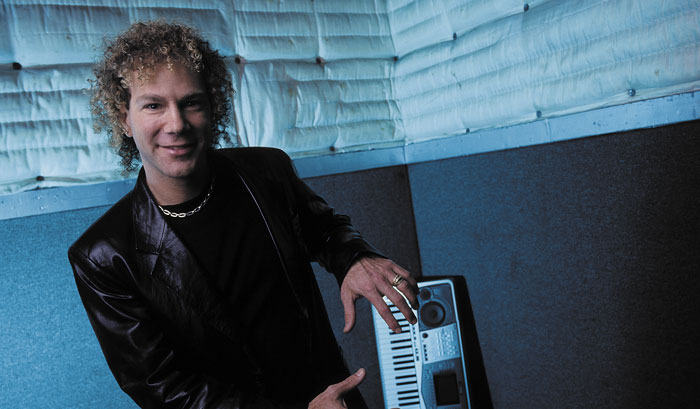 After almost 20 years with one of the most successful rock acts in history, Bon Jovi keyboardist David Bryan is setting his sights on a second career: musical theater composer.
The New Jersey native has completed the music and lyrics for two rock-based scores - Sweet Valley High: The Musical and Memphis. We recently spoke to him about his voyage from stadiums to the stage.
Were you always a musical theater fan?
Not at all! I never did musical theater. I never watched it or understood it. But when I told my publisher that I wanted to try writing with new people, he suggested writing a musical. So I hooked up with Francine pascal, who wrote the Sweet Valley High book series, then I wrote a second show with Joe Dipietro, who wrote I Love You, You're Perfect, Now Change, which has been playing off-Broadway for years. It's called Memphis, and it's the story of Dewey Phillips, the first white radio DJ to play black music. We just did a staged reading of Sweet Valley High with 13 actors and a full band, with all the charts written out for everybody. The next step is to find a theater willing to stick its neck out and put on a production.
There's a real reward in trying to analyze a character and travel emotionally with the from start to end.
You were a keyboardist in a guitar-heavy band...
Well, I'm a classically trained musician, but a lot of the skills you learn in school don't really apply in a rock band. So in Bon Jovi, my role was as a colorist. There were keyboard hooks, but mainly I illustrated the lyric, kind of like a movie. For example, when you're playing "Wanted Dead or Alive" you can't put happy little strings behind it!
So is it liberating to work in a field where the keyboard is king?
Not really, because both my shows are very guitarheavy. That's something that's not happening on Broadway, even in the supposedly rock-based scores. I've played in a rock band, and I can tell you, those scores are definitely not rock. It's just a loud guitar playing Broadway songs. But my songs are rock-and-roll. But at the same time, I want to make sure the songs are memorable. I want you to walk out singing these songs.
What composition tools do you use?
The absolute best things for me to compose on are the Yamaha PSR series keyboards. They're great tools, because you can write songs on them really quickly. It's all there in one box: great drum grooves, pianos, organs, strings, horns, basses. I have a big home studio with all those things, but you can lose your inspiration in the time it takes to fire all that stuff up. With the PSRs, I pretty much just set the beat and write away. Right now I'm using a PSR2000, the newest model. It's got great-sounding speakers with powerful bass ports and a huge edit screen. The sounds are wonderful - Yamaha obviously put a lot of dough into them.
What have you learned about writing musicals since you started?
Well, like any good musician, when I started I thought, "Hey, I can do this!" But of course I didn't know what I was doing. The real breakthrough comes when you hear your song sung by a character and see how much it matters to their development within the story. In some ways it's easier than rock songwriting, because you know what you have to do. If a character has to progress from point A to point D, you know that today you're going to be working on points B and C.
What's more satisfying: being in a top rock band or writing your own shows?
They're both great. Bon Jovi is a dream, an amazing thing. But there's a real reward to sitting in a room with a writer, trying to analyze a character and travel emotionally with them from start to end. And then when you see it all live, when you watch people laughing and feeling the emotions you want them to feel, it's a very satisfying thing.
© 2023 Yamaha Corporation of America.