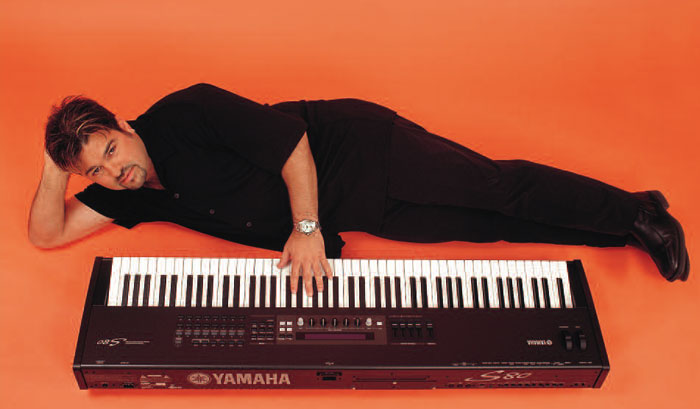 Faith Hill continues to evolve from country singer to pop diva and Steve Hornbeak couldn't be happier. "Country is where I got my foot in the door," says Hill's longtime keyboardist/vocalist, "but I've always been more of a pop musician. Now that Faith is crossing over with things like the Divas tour, the gig has turned into something I enjoy even more."
To hear the Nashville-based road and studio veteran tell it, it's like playing two gigs at once: "On Faith's older material like 'Hey Baby Let's Go to Vegas,' it's strictly boom-chick acoustic piano. But on the newer, poppier songs, there's so much keyboard stuff going on that I have my hands full, and one of the girl background singers plays the extra parts on a Yamaha EX5 Synthesizer."
Particularly exciting to Hornbeak is the way Hill is reinventing some older material to suit her changing sound. "For example," he says, "she decided to replace the original acoustic piano sound on 'Take Another Piece of My Heart' with a heavy overdrive organ. I found the perfect sound on my EX5: a preset called 'Hard Rock.' Faith loved that grinding, distorted organ, so we used it again on 'Love Child' on the Divas 2000 tour."
Hornbeak used to rely on an organ and a rotating speaker cabinet for his organ sounds, but after growing frustrated with repeated breakdowns, he switched to straight EX5. "Nobody even noticed I'd stopped using the Leslie," he recalls. "In fact, everyone said the low end sounded bigger."
All piano sounds come from a Yamaha P200 Electronic Piano. "That's not just my choice," insists Hornbeak. "Faith absolutely loves the Yamaha sounds. They cut through in live performance and they're awesome to record with. There's nothing else in the same league." And when the crew rolls a 7-foot grand piano for the acoustic portion of the show, few listeners ever realize that it's really a second P200 inside a piano shell.
For this year's tour, Hornbeak says he plans to add a Yamaha S80 Synthesizer: "Beside being a great controller, it has all these great arpeggio features. It seems to be a perfect fit for the next step up Faith is trying to make in her music."
© 2023 Yamaha Corporation of America.