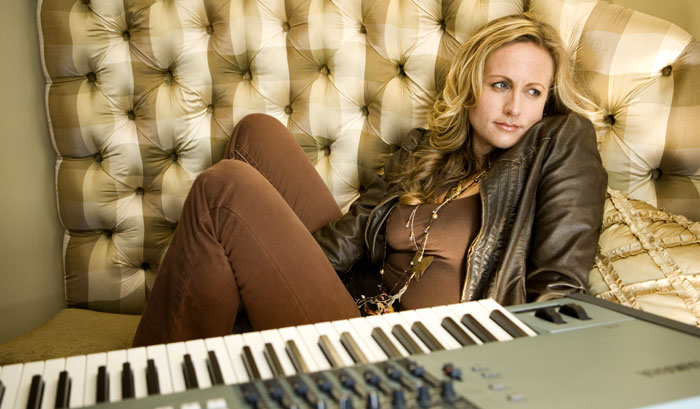 To hear Nicole Witt tell it, her musical career was determined before she was born.
"My family used to be a traveling band in Missouri," she explains. "They played country music in dance halls and restaurants. My grandpa played fiddle, my grandma played piano, one uncle played banjo, and another played piano too. When my dad was only five or six, he was a square dancer on the Ozark Jubilee Show--one of the first country music TV shows. My grandpa died when my dad was only nine or ten, but I still play his old fiddle. It's the only thing I have of his--when I play it, I somehow feel connected to him."
I've played a lot of electronic keyboards that just sound clunky, but the Motif is very musical.
Besides excelling on violin and keyboards, Witt is a rising writer in the competitive Nashville songwriting scene. She has a double deal with Curb Records--she's signed as both a writer and an artist. Her songs have been recorded by Diamond Rio ("The Box"), Clay Walker ("It Ain't Pretty But It's Beautiful"), Terri Clark ("She Didn't Have Time"), and Kimberly Locke ("Lay Down My Love"). She also collaborated with Rodney Atkins on the hit "When An Angel's Hands Are Tied." Now, while Witt prepares for the release of her debut Curb single, "Bourbon," she continues to collaborate with other writers in hopes of placing more songs.
Witt says she relishes the experience of writing both for herself and for others: "I love the whole craft of writing. I love the fact that you can express a lot of different things. It's fun to be able to write for other people and get a totally different perspective. I'm glad my career is structured the way it is."
Witt works regular hours, but her songwriting procedure is never routine. "The inspiration is different every time," she says. "Sometimes the music hits you first. Sometimes you wake up in the middle of the night with a lyric, maybe just a vague idea. Sometimes you have nothing when you walk into a writing session, but your co-writer has something inspiring. It's always an interesting process."
If there's a unifying theme to Witt's writing, it's the emotional immediacy of her songs. "I'd say I'm a pretty emotional writer," she muses. "There's a realness to what I write, and that comes out in my music as well. I tend to focus on genuine emotions, as opposed to novelty things. I'm often inspired by whatever is hitting me emotionally at the time. For example, I recently wrote about a friend whose father was an alcoholic and wasn't really part of her life. It was great being able to come at a song from that point of view, and write something real about it."
Given the family's musical pedigree, it's probably no surprise that they supported her early ambitions. "I don't remember what drove me to write my first song," says Witt. "I was 16, and the song was called 'You Can't Stop Time'--maybe an odd topic for a kid! My dad was so pleased I wrote a song that he took me down to a local studio to record it. Later, I performed it in my school assembly and got my first standing ovation."
These days Witt does most of her writing at the keyboard--most recently on a Yamaha Motif XS8. "I'd been looking at keyboards for a couple of years, and several players mentioned that they played Motifs," she recalls. "Dean Sams, the keyboard player from Lonestar, gave me an real earful about how great they are. When I finally played one, I fell in love with the feel. It feels like a real piano. I've played a lot of electronic keyboards that just sound clunky, but the Motif is very musical. I love the classical grand piano sounds--they're absolutely great. Of course, there are thousands of other sounds to choose from, plus sequencing and lots of other stuff. I want to get proficient at all those things, too."
Witt encourages Music City songwriters to follow their dreams: "If you love it, do it. Write often, and get good at the craft. It's a tough business. You need determination and a thick skin. For every 'yes,' you get 99 'nos.' But that one 'yes' can be a career swing for you. At the end of the day, if you love it, you have to do it. I don't know what I'd do if I didn't write, play, and sing. There would be a huge hole in my life!"
(Photography Credit: Rusty Russell)
© 2023 Yamaha Corporation of America.