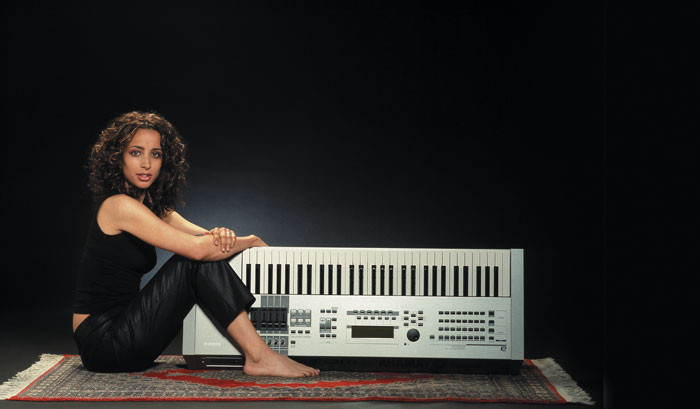 Composer/keyboardist Linda Martinez has been part of the Yamaha family for over two decades - not a rare distinction, save for the fact that Martinez is only 25 years old.
A child prodigy, Martinez commenced her formal studies at Southern California's Yamaha Music Education Center. By age eight she had performed her original compositions before audiences at Kennedy Center and the United Nations. Many concerts and accolades later, she completed her classical composition studies at the University of Southern California - and promptly took a left turn into jazz and pop by becoming the house keyboardist for the FOX Network's Keenan Ivory Wayans Show.
Martinez currently tours with R&B sensation Destiny's Child. Besides playing keyboards, she works closely with musical director Roger Bacon in orchestrating and producing the group's live performances. When she's not on the road, Martinez works with four-time Emmy award-winning composer Laura Karpman, scoring additional music and performing on many of Karpman's film and television soundtracks. We spoke with Linda as she was gearing up for Destiny's Child Survivor tour.
Talk about starting young!
I don't remember a life without music. My parents tell me I was singing with perfect pitch before I could talk. As soon as I could reach the piano keys I was creating little pieces for one hand. Yamaha's music education system encourages kids to compose and perform their own music, and the concerts at my local Yamaha school gave me my first taste of creating something and sharing it.
Given your classical education, is it odd that you gravitated toward jazz, pop, and film scoring?
I always felt that those classifications were unnecessary. I can find similarities in almost all genres of music. The creative process is the same no matter what style you choose to write in.
How has classical training benefited you, even when writing and performing pop?
My classical studies disciplined me and gave me many skills: technique, orchestration, a sense of structure, and the ability to commit to paper exactly what I heard in my head. Jazz, on the other hand, shaped my harmonic language and enabled me to trust my musical instincts.
Can you explain what a music director gig entails?
The job requires a quick musical mind that can cope with stress and last-minute changes. Robert Bacon is the quintessential music director. he's responsible for most of what you hear at Destiny's Child live performances. He and I collaborated on arrangement of "Let's Wait Awhile" at the MTV Icon awards show honoring Janet Jackson, and on the production of Destiny's Child's 2001 grammy and Brit awards performances.
Tell us about the skills needed to succeed in film and television scoring.
Film scoring is the hardest but most fulfilling work I know, and film composers have the thickest skin of anyone in the industry. Once you procure a job - a feat in itself given the intense competition - you have to be willing to work eight to 14 hours a day to produce as little as three to six minutes of music, depending on the instrumentation. You also have to be willing to change it or sometimes even throw it all away at the end of the day if it isn't the right musical solution. You have to be versatile in all styles and mediums and able to master the everchanging technology. I'm very fortunate to work with Laura Karpman, who has all the skills I've mentioned and more and has been generous enough to impart some of her knowledge to me. She has given me opportunities to collaborate on scores like the History Channel's Egypt: Beyond the Pyramids documentary and PBS's Living Edens.
Tell us how you use your Yamaha synths and samplers.
I love the S80 synthesizer's weighted action and its easy access to very convincing piano and keyboard sounds. The A5000 sampler is an invaluable tool for road keyboardists. we no longer need five or six synths to create a full live sound, just an A5000 and a controller. I also have a CS6X synthesizer, which is great for coping with last-minute changes and programming automated patches on the fly. It doesn't take any work to make this synth sound good, and the internal sounds are pertinent to today's pop, electronica, and R&B markets.
Any thoughts about how parents can encourage kids to pursue music without being pushy?
I always say that if you want your children to explore music, place an instrument in the center of the living room and tell them not to touch it!
© 2023 Yamaha Corporation of America.