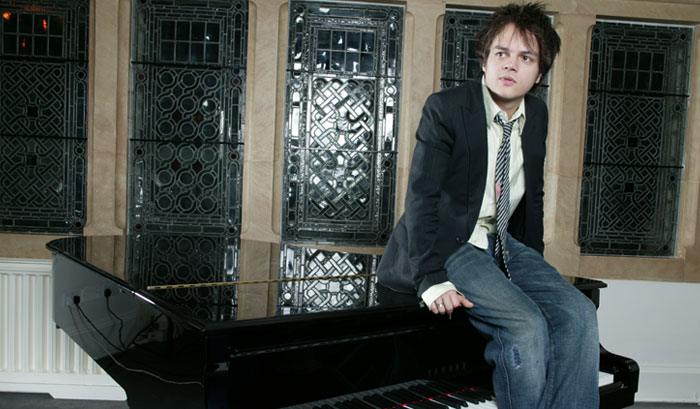 British singer/pianist Jamie Cullum is known for updated arrangements of jazz standards, unconventional cover tunes, and his own distinctive compositions. On his major-label debut, 2003's Twentysomething, and 2005's Catching Tales, Cullum combines a crooner's sensibility with a smart, sometimes acerbic lyric sense, moving effortlessly from neo-retro mood music to smart-guy pop.
On a recent sunny afternoon, Jamie, 26, was at his London home, drinking tea with milk. "How English is that?" he chuckles. He says he's grateful for a break from touring, but has no complaints about his ambitious schedule.
"I'm an extremely lucky boy to be touring the world right now," he says. "I've been playing stand-up rock venues, sit-down theaters, pop festivals, blues festivals, all sorts of things." In fact, Cullum may be the first artist on record to play both the storied Newport Jazz Festival and Coachella, Southern California's sprawling rock blowout.
I love the touch of the Yamahas--not too light, not too soft, not too hard. They're real road warriors, too.
"It's always a bit more fun playing stand-up shows," Jamie confides. "We've played some seated venues with beautiful acoustics, so quiet you can hear a pin drop, but I always have the most fun when people are drinking and dancing and not being too polite. Sometimes when you're sitting up there with a piano and acoustic bass, people expect it to be a sit-down kind of thing, but there's a lot of music I play that you can groove and jump around to. So I like to work outside of people's expectations."
Nowhere does Cullum work outside those expectations more than in his startling arrangements of classic songs. Who else would have imagined Jimi Hendrix's "The Wind Cries Mary" as an up-tempo, Mose Allison-style jive number? Or a funky, second-line version of "I Could Have Danced All Night?" Or that trip-hopped take on "I Only Have Eyes for You?"
As clever as these interpretations are, Cullum insists they evolved without deliberation. "I don't sit down with a big list of songs and think, 'right, what am I going to cover today?' Normally I don't even end up choosing the songs--they just turn up in my consciousness and wind up under my fingers one day. The first time I played 'High and Dry' for example, was on a gig, without any kind of warning. The songs choose you, rather than you choosing them."
Before he commits to a song, Jamie scrutinizes the lyric. "I only do cover songs I feel I can sing through. You know, I wouldn't sing 'It Was a Very Good Year,' for example. I look at the lyrics very carefully to decide whether it's something I can sing about and interpret in my own way. Words are very important to me--before I thought I could be a musician, I planned to be some kind of fiction writer. I've always been interested in stories. That's something you get only so often in lyrics these days."
Nor is there a set method to Jamie's songwriting. "I'll write anywhere," he says. "Behind the piano, on the guitar, or even just to a drum loop or something I've written on the computer. There's no magical formula. Some days I sit down to write and something happens immediately. Other days are more like fishing. I sit there and wait for something to happen. I play around with chords or grooves, and eventually something bites."
Jamie has a Yamaha C5 grand piano in his studio, and he tours with one as well. "I prefer a slightly smaller grand like the C5 because I play so hard, almost in a rock manner," he explains. "Sometimes it's difficult to be heard when the piano is so big, especially the bottom end. I love the touch of the Yamahas--not too light, not too soft, not too hard. They're real road warriors, too. They stay in tune. And wherever I go in the world, whatever country I'm in, I always know what I'm getting because the Yamaha pianos are so consistent. With other manufacturers, the quality can run across the board--and they never stay in tune for the length of the gig!"
Jamie says he's already compiling ideas for his next disc: "I already have ten dozen ideas! One thing I'd like to try is starting an album just by myself, without a producer. Rather than going in and saying, 'right, I'm making the album now,' I'd like to mess around for a while--just make songs, see where I'm at after a few months, and then get a producer involved. I prefer to see it from the point of view that the producer is producing me, not the music--he's like a facilitator to make my ideas a reality."
© 2023 Yamaha Corporation of America.