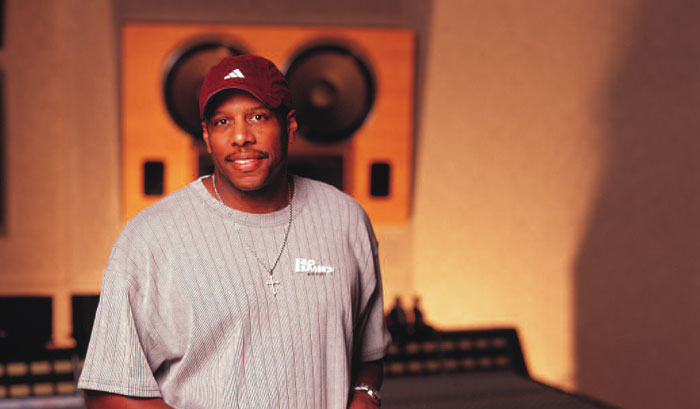 Most songwriters learn to accept the disappointment of hearing their songs produced in ways far removed from the composer's original vision. But Daryl Simmons has largely been spared that pain: The mega-Platinum R&B producer (Toni Braxton, TLC, Whitney Houston, Dru Hill, Xscape, Tevin Campbell, Monica, Aretha Franklin, Aaliyah, Mariah Carey, and others) has written many of his biggest hits.
"I usually don't write a song for someone if I can't produce it," says Simmons. "When I write, I already have a vision of how I want it to end up."
Most Simmons songs are crafted on electronic keyboards in his home studio. "I start out just fiddling, usually with a piano sound," he says. "I'm looking for an idea that feels like it could be a record. Once I have a few piano chords I like, the rest usually falls into place."
Most of Simmons' latest songs were born on a Yamaha S80 Synthesizer. "The S80 sounds inspire me to sit there until I come up with something," he says. "I usually start with either a warm electric piano or an acoustic piano sound. I don't like to spend time editing sounds, because I don't want to stop and risk losing my ideas. That's why the S80 pianos are great: you just push a couple of buttons, and you have the right one within seconds. The S80 is also great for setting up a quick beat without having to stop everything to hook up a drum machine. When I have an idea, I want to get it down right away."
Creativity doesn't always happen in the studio. The fact that a guitar can go anywhere explains why a writer can create so many tunes on that instrument. Daryl's use of the Yamaha PSR8000 started with the need of portability. No cables, no boxes, no waiting to be up and running. The surprise was no compromise in sound quality or professional capabilities.
This Yamaha PSR lives in Daryl's office, at home, and yes, in the studio. The PSR8000 is way more than portable. It is a world class, no compromise, professional keyboard. Producers collaborate with other talent and, often, must go wherever they are. The ability to take the studio with you is what the Yamaha PSR Keyboards are all about.
© 2023 Yamaha Corporation of America.