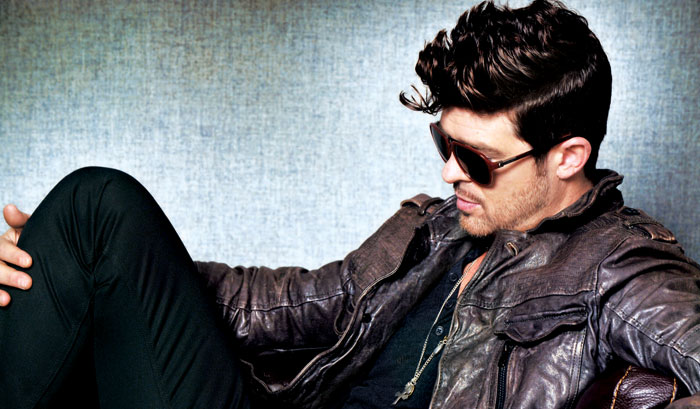 It's hard to keep up with Robin Thicke. During the past decade he's evolved from songwriter-to-the stars into a platinum-selling solo artist. After his fifth album, 2012's Love After War, hit the R&B Top Ten, he embarked on a completely different project: appearing as a judge on the ABC reality television show Duets, which also features fellow vocal superstars Jennifer Nettles, John Legend, and Kelly Clarkson, among others.
He also recently released a Whitney Houston tribute video. "It's my tribute to her song, "Exhale (Shoop Shoop)," Thicke says. "It's a very meaningful video to me. I've gotten a real nice response from it, and I'd like as many people to see it as possible. I never had the honor of meeting her personally, but her voice and her music inspired me tremendously when I was growing up."
WHAT KIND OF MUSICAL EDUCATION DID YOU HAVE?
I just taught myself. I had a piano lesson or two when I was about 11. After that, I didn't touch the piano for six months, but then I just sat down one day and started playing the songs I heard on the radio.
DO YOU THINK OF MUSIC AND TV AS A FAMILY BUSINESS?
Entertainment is a family business, that's for sure! Music has always been prevalent in both sides of my family, including my grandfather, who was a jazz saxophonist, and my grandmother, who was a classically trained pianist. My mom's a singer. My dad's a songwriter. My uncle has been the head writer of America's Funniest Home Videos since the show started. When my brother was 10, he was the voice of Dennis in the Dennis the Menace cartoon. So yeah, I'm about as Hollywood as it gets.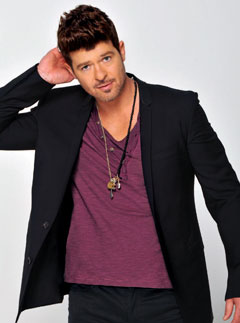 DID YOU ALWAYS ASSUME YOU'D GO INTO ENTERTAINMENT?
For me it wasn't just entertainment - it was music specifically. When I was seven years old I could copy Michael Jackson pretty well vocally, and I would get a lot of attention for it. I started performing for the family every opportunity I had when I was about that age. By the time I was 12 or 13 I was playing the piano, and I would perform for anyone who wanted to listen.
YOU HAVE MANY DIFFERENT MUSICAL INFLUENCES, FROM CLASSIC SOUL TO HIP HOP. WHAT'S THE COMMON GROUND BETWEEN ALL THE MUSIC THAT INSPIRES YOU?
The common ground, I think, is some type of expression of the soul. I think my music and the people that I like the most are very passionate, soulful songwriters and singers, whether it's Bob Dylan or Bob Marley, Marvin Gaye, Stevie Wonder, or Michael Jackson. All those people wrote from the bottom of their souls, and they all tried to bring the world closer together in some way. They all wanted to heal the world with their music.
HOW DO YOUR SONGS CHANGE WHEN YOU WRITE FOR OTHER SINGERS?
Actually, I haven't really written for anyone else in about ten years. I wrote a couple things for Usher, and something for Mary J. Blige, and I did a few songs with Lil Wayne. But that's about it, because once I started making my own music, it just became too personal for me to really write for anyone else.
ON DUETS, PEOPLE HAVE PERFORMED SONGS YOU'VE WRITTEN.
On the first episode, yeah, but I didn't really pay much attention to it. It wasn't "good "or "bad" to me. It was just nice to mix it up a little bit.
DO YOU LIKE IT WHEN OTHER SINGERS COVER YOUR SONGS?
Oh, yeah, I always love that. There's no higher form of flattery than to be copied!
IT'S ALWAYS HARD TO DO A COVER THAT'S BETTER THAN THE ORIGINAL.
Yeah. [Laughs.] Unless you're Otis Redding.
Nothing compares to a real piano, but the Motif is as good as it gets.
WHAT ARE SOME OF YOUR FAVORITE COLLABORATIONS SO FAR?
Well, Mary J. Blige is one of the great singers - great people! - of my generation. It was a true honor to work with her. And working with Lil Wayne was incredible. I think he's the Bob Dylan of our time, in terms of his skill with words and his ability to manipulate phrases. He comes up with things so quickly, without even writing anything down. He's as good as it gets. He's a genius.
HOW DID YOU BECOME INVOLVED IN THE DUETS SHOW?
They just called me up and asked me if I wanted to do a singing show. I said, "Not really." But then they said, "But you'll get to sing on every episode!" Well, I love to perform and sing, so that was the deal for me. I was like, "Okay, well, if I get to do my thing every show, then that sounds fun!"
IF IT WERE COMPLETELY UP TO YOU, WHAT QUALITIES WOULD YOU BE LOOKING FOR IN THE SINGERS WHO APPEAR ON THE SHOW?
You've just got to have that extra bit of confidence. You've got to be able to get up there and let it go, and not worry about how it's received. I think a lot of singers give too much, or they don't give enough. There's always just that right amount of giving that makes a performer special.
WHAT ADVICE WOULD YOU GIVE AN ARTIST WHO'S APPEARING ON TV FOR THE FIRST TIME?
I would say just enjoy yourself the way you do when you're singing in front of the mirror with nobody watching. Try to connect with the spirit that makes you love music and want to perform it. You have to be feeling what the song is about. If you worry about what everybody's thinking, then you're not in the moment of the lyric.
(Photography Credit: Rob Shanahan)
© 2023 Yamaha Corporation of America.