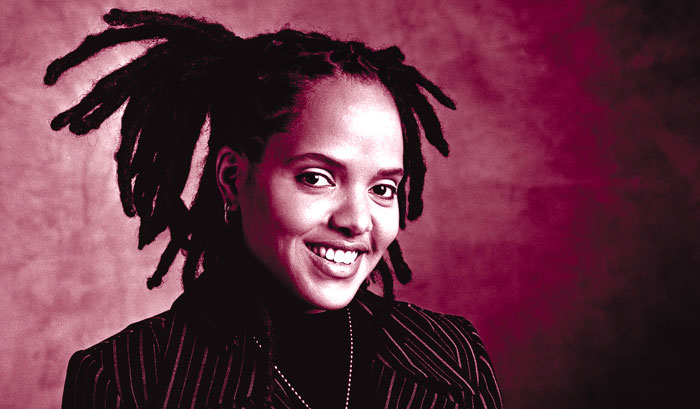 Terri Lyne Carrington has a unique perspective on jazz history, having played with such bebop and modern jazz giants as Rashaan Roland Kirk, Max Roach, Illinois Jacquet, and Clark Terry-and that was only before she could legally drive.
The teen jazz prodigy went on to work with Stan Getz, Wayne Shorter, Carlos Santana, Pharoah Sanders, Nat Adderley, Oscar Peterson, Les McCann, Joe Williams, Lester Bowie, Cassandra Wilson, Branford Marsalis, Pat Metheny, David Sanborn, Kevin Eubanks, Mike Stern, and many others. Additional Carrington credits include her award-winning Real Life Story album and service in the Arsenio Hall show house band. She is currently touring with Herbie Hancock.
Carrington says her father, alto saxophonist Sonny Carrington, never pressured her to pursue music. "He wanted me to do whatever I wanted with my life," she says. "But I chose to play, because it was the most interesting thing to me. Playing so young let me see how it was really done, and it meant a lot to get encouragement from legends like Dizzy Gillespie and Rashaan Roland Kirk."
It's a matter of not separating yourself from your art. It's a matter of just being.
Yet Carrington, who is now 36, doesn't dwell on age. "In jazz," she says, "there are no age limits as far as how forward-thinking or traditional artists are. I know a lot of young musicians who are much more conservative in their thinking than Herbie Hancock, who is 61. Young people who play strictly traditionally are important, because they keep the spirit of the older musicians alive. But I didn't go that way because I believe jazz is also about breaking new ground and exploring new territory."
These days Carrington spends as much time songwriting and producing as she does drumming. "Drummers bring something unique to the production world, which tends to be dominated by keyboard players," she says. "They have a great sense of structure, of how a song should flow." Her latest project is an album by alternative R&B artist Wade III.
Whether she's playing straight-ahead jazz or cutting pop tracks, Carrington relies on Yamaha drums. "I use different kits for different gigs," she says. "For anything groove-oriented, I use a 22" kick drum, but a 20" is definitely more comfortable for jazz. sometimes I use stranger things. This summer, for instance, I'm touring with Herbie doing material from a triphop/ambient-type record he's recorded. I'm going to use an 18" kick drum because it's such a quirky sound for groove music. I use various wood snares between 5" and 6" deep. I especially like the maple Dave Weckl signature snare. The number of toms depends on my mood-somewhere between three or five, usually 10", 12", 14" and 16", though I sometimes like an 8"."
Carrington says she oscillates between maple and birch drums: "Most often, I go with maple, though I recently got a birch kit that I'll be using this summer with Herbie. The birch drums are brighter and project a little more. The maple ones are a little warmer. But the Maple vs. Birch debate is really a matter of small nuance. Yamaha drums work for every situation."
And what thoughts cross Carrington's mind when she thinks back on her prepubescent accomplishments? "Sometimes it's a hard act to follow," she admits. "Sometimes you can even feel tired or bored. But usually I don't think that way-I just go on with my life. I know I get better as a drummer every year. In the end I share the philosophy of Herbie Hancock and Wayne Shorter when they talk about not playing music anymore, but just playing life. What you play is no different from who you are. You're not thinking about the technical aspects of music. The person who needs to have everything broken down into technical, analytical formats is exactly the one who isn't playing life. It's a matter of not separating yourself from your art. It's a matter of just being."
© 2023 Yamaha Corporation of America.