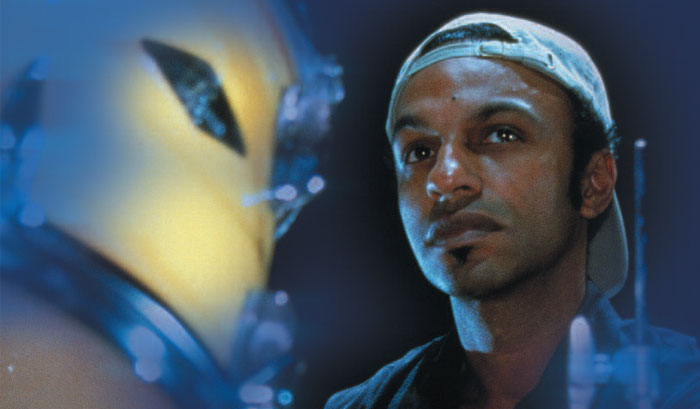 There are drummers, and there are drummers' drummers. But is there such a thing as a drummers' drummer's drummer? If so, Manu Katché is one. The player of choice for Peter Gabriel, Sting and many others, brings to each project an unparalleled blend of intelligence, intensity and groove. He spoke with us recently from his home in Paris.
You started out as a pianist and were educated at the Conservatoire National de Paris. How did that mold you as a drummer?
It made my approach be about more than just playing a beat and keeping time. It helped me understand the importance of harmony, melody, words and atmosphere.
Which drummers inspired you?
I have rarely been inspired by drummers, though I listen to and respect them. My main influences are singers and soloists. I listened to Miles, Coltrane, Monk, and R&B singers like Donnie Hathaway, Marvin Gaye and Otis Redding.
When you're faced with a new piece of music, do you conceptualize your part or simply empty your mind and groove?
I never just empty my mind and groove. I listen carefully to the piece and search for its essence, trying to find a way to be in harmony with it. I try to figure out what the music is trying to express, and then I try to build a journey on the drums from there.
Why do you prefer Yamaha drums?
They just sound right to me. The kits are light and they look good. The hardware is reliable and I like the way you can set things up at many different angles. I used to use a Yamaha Rock Tour Custom kit, which I loved. They've stopped producing it, but I've found more or less the same parameters in the Beech Custom kit. It sounds good in the studio and onstage, is easy to tune and it has light shells, which are very important to me because of the harmonics they provide.
What were you aiming for with your signature model snare?
I wanted tight heads with lots of ring and harmonics, so it had to be metal or brass. You may have noticed that my snare is close to an old "black beauty," but I didn't copy that drum. I just dig that sort of ringing, cutting sound. Now it's the only snare I use. I love it.
Do you have any advice for aspiring drummers?
You must be confident with what you come up with on the instrument. Of course, when you are a beginner, you are anything but confident. But when your brain and your heart decide to go a certain way, that means it's right inside and no one can tell you otherwise.
© 2023 Yamaha Corporation of America.