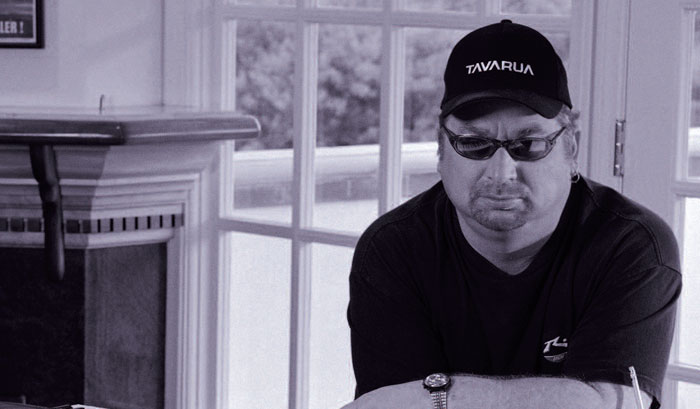 Not many musicians have had the opportunity to sit at the feet of the some of the century's greatest musicians the way David Paich has - literally.
"I got a taste of great musicianship at an early age," says Toto's keyboardist, who, being the son of legendary composer/arranger Marty Paich, practically grew up in Hollywood's recording studios in the '60s. "I was fortunate in being able to witness record-making with great artists from age five on. I got to watch people like Lena Horne, Ray Charles, Ella Fitzgerald."
Young David first became enamored with playing drums. "I'd get to sit next to guys like Louis Bellson and Shelley Manne," he remembers. "Even when I was just seven or eight, Shelley treated me like an adult. It was so amazing being surrounded by all those super-hip jazz players, all wearing sunglasses at 10 P.M. And when the date was over, dad would bring me over to Shelley's club, Shelley's Manne Hole. Kids weren't allowed, but Shelley would bring me in the back door. I was in heaven!"
But Marty Paich persuaded his son to pursue keyboards rather than drums. "Dad convinced me that if I wanted to do this for a living, I didn't want to be carting drums around later in life," says David. "And he said that when everyone else is out of work, the piano player still has a job because the vocalist always needs an accompanist."
Another influence was session great Larry Knechtel. "I met Larry when my dad was doing arrangements for artists like the Mamas & the Papas and Johnny Rivers," recounts David. "People probably know Larry best for his piano on 'Bridge Over Troubled Waters.' He really invented that rolling, world-music-influenced, anything-goes style, and he was playing that way back when most rock players still sounded like Fats Domino. Larry also influenced me in jumping from drums to piano."
David was a working pro by his mid-teens. "Guys like me and [Toto drummer] Jeff Porcaro were ahead of the game because we had dads in the business," he says. "We were working clubs when we were 15. By the time we were 20, we were seasoned veterans, making records with Steely Dan, Seals & Crofts, Boz Scaggs." Toto, in fact, came together after the future bandmates played together on the sessions for Scaggs's 1976 album Silk Degrees.
And now, 15 Toto albums later, Paich finds himself reunited with Scaggs - he is producing Boz's upcoming album. David's main instrument on the project is a Yamaha S80 synthesizer. "That was the only instrument I took with me to the sessions in New York," he says. "I can truly do a record with just that one keyboard. The sounds are so good! I remember a time when it would have taken a week to get sounds like that out of a synthesizer."
A week? "Absolutely," nods Paich. "When I got my first synthesizer at age 15, it had all these confusing words like 'envelope' and 'filter,' things that almost no one understood at the time. I remember one time when I was hired for a session with a full orchestra, thinking it was a piano gig. But they had a synthesizer, and we just couldn't get a sound out of it. But today, sounds are so fast and so good that it's fun to use Yamaha synthesizers."
Paich is also a fan of the Yamaha PSR keyboards, especially the PSR740 and PSR640. "Those are my main writing tools," he says. "It's so instantaneous, having all those drum grooves and great sounds right there on one keyboard. In fact, a lot of the sounds are so good, they often make it onto the final tracks. The PSR is all over the last Toto album, for example. You know, sometimes you don't want big, rich, digital MIDI sounds. Sometimes it's better to have something a little simpler, almost analog-sounding. The PSR is great for that." Paich owns several of the PSRs - one for every place he writes.
Does Paich, an eyewitness to five decades of music-making, have any advice for aspiring pros? "Make sure you really love music," he counsels, "because that may be your only reward. Very few get to the top and make lots of money. But even for the successful ones, the music itself often remains the greatest reward. That's what keeps people making music even after their hour in the spotlight has passed. Fame and money is a very short-lived goal. But if you love music, by all means get into it."
© 2023 Yamaha Corporation of America.