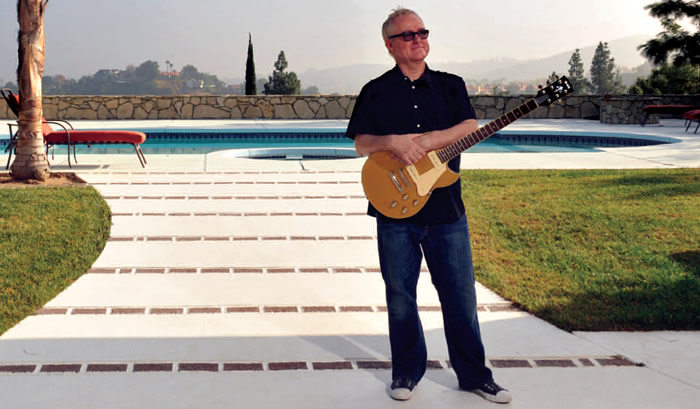 EVEN IF YOUíVE NEVER HEARD OF TIM PIERCE, youíve heard him. A prolific Los Angeles session guitarist since the í80s, Pierce has played on thousands of recordings by the likes of Michael Jackson, Madonna, Bruce Springsteen, Elton John, Rod Stewart, Dave Matthews, Santana, Faith Hill, Josh Groban, Chris Isaak, Celine Dion, Ricky Martin, Joe Cocker, Kelly Clarkson, Jason Mraz, and many, many other artists. Tim took a break from his hectic studio schedule to field questions about his career and his craft.
WHAT ARE SOME COMMON MISCONCEPTIONS ABOUT YOUR GIG?
Well, I work in the domain of popular music, where my job is to create parts that make somebodyís song sound like a record on the radio. That means I often wind up playing parts that are very, very simple. But no matter how simple the part, you have to execute it with heart. You can always tell the difference between musicians who feel what theyíre playing and ones who are going through the motions. You have to love what youíre doing.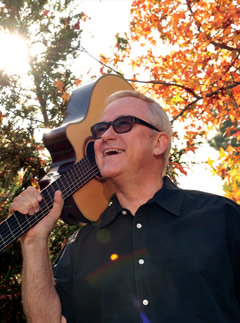 Itís great to be able to sit in front of this beautiful stereo box that emulates so many of the sounds I love. Itís the dream guitar tool.
YOU ALSO HAVE TO WORK VERY QUICKLY.
Yesóextremely quickly. Today, for example, I have a guy coming to my studio to record three songs. Itíll take about six hours. There might be six guitar parts per song, or there might be sixteen. And at the end of the day, heíll leave with all the parts sounding like a record.
DO YOU EXPECT TO ENCOUNTER PREPARED CHARTS AT SESSIONS?
Actually I donít read music. Thereís a different job in this city for people who read, and thatís the movie business. I canít really do those sessions. At my sessions, we usually wind up creating the parts together. Basically I provide an onódemand encyclopedia of guitar styles from the last four decades.
YOU DO A LOT OF OVERDUBBING-ALMOST LIKE "SELF ORCHESTRATION."
Often thatís exactly the job. You have to make the song grow. You have to make the second verse pay off. The choruses have to blossom. The bridge has to have something different, and the outro needs something else. You have to hit all the marks.
DOES WHAT YOUíRE CALLED UPON TO PLAY CHANGE WITH MUSICAL FASHION?
It changes every six months. For instance, right now the direction seems to be cleaner guitars and fewer parts. Arrangements are more economical, and thereís less distortion. But an even bigger trend is that we are in an era when the music thatís most popular on the radio tends not to involve live musicians. Nowadays most music is created on someoneís laptop. Guitar certainly isnít the engine that drives it. When itís there, guitar is more of a seasoning.
There is a lot of popular guitar music these days, but itís just not the stuff you usually hear on the radio. But itís important to keep up with what newer musicians are doing. As a guitarist, that means studying artists like the Foo Fighters, Muse, Mumford and Sons, Kings of Leon, Young the Giant, Foster the People, The Lumineers, and the Black Keys. Basically, bands that still use organic instruments as the heart of their sound.
LATELY YOUíVE BEEN PLAYING A YAMAHA SBG1820.
Yes. Itís an amazing guitar. I liked the original Yamaha SG from back in the í70s, and when I saw this one with its gold top and P-90 pickups, I had to get it. Itís a big piece of mahogany that sounds super-fat. Itís especially good for anything in the blues-rock domain, like sounds inspired by Zeppelin or the White Stripes. Itís a bit of a secret weapon, actually.
Iíve also been using a Yamaha THR10 amp, which is an amazing tool. Itís great to be able to sit in front of this beautiful stereo box that emulates so many of the sounds I love. I can merge the output from an iPod or iPhone and get beautiful stereo playback of the song, along with great guitar tones and effects. I used it to learn all the cover songs we played on The X Factor. Itís the dream guitar tool.
ANY ADVICE FOR GUITARISTS WHO DREAM OF DOING WHAT YOU DO?
Well, there are definitely not as many studio musician gigs as in the past. But if you can come to a big city and compete with the best players around, there are gigs. You need a complete musical vocabulary covering everything since the í50s, and you have to be able to modernize it on demandóand the definition of "modern" changes often. You must be entrepreneurial: You might write music for a commercial, and thatíll take care of a few months of bills. Or you might go on tour for a few months, and thatíll pay for the next six months. Itís also good if you can compose, program, and perform onstage. These days, doing a little bit of everything is the best way for a musician to prosper and survive.
(Photography Credit: Rob Shanahan)
© 2023 Yamaha Corporation of America.