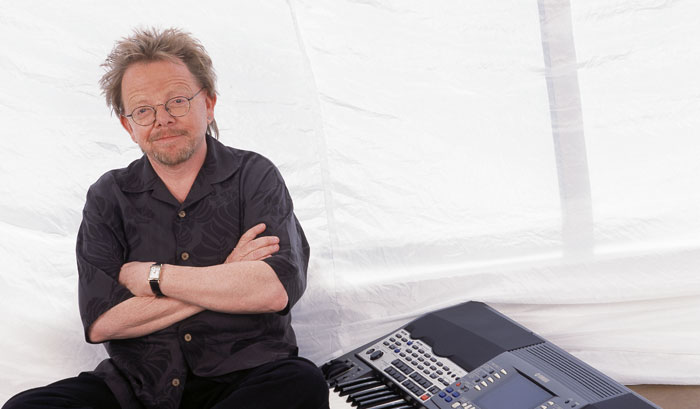 The best songs," says songwriter Paul Williams, "are usually the ones I'm not even sure I should put my name on. I mean the ones that just seem to flow out of my unconscious."
Williams, heading into the fourth decade of a songwriting career that has generated such pop standards as "We've Only Just Begun," "An Old-Fashioned Love Song," "Rainy Days and Mondays," "I Won't Last a Day Without You," and "Evergreen" says he's grown more adept at listening to his subconscious. "It's almost as if I turn the writing assignments over to that part of my brain. The songwriting process has become less grandiose for me. Now I'm learning to play at it. It's not eye surgery- it's music, a celebration of life, a gift."
A good song is like an undented ping pong ball--it may get lost in the grass for a while, but then it just sort of pops up.
"Gift" is a word frequently on the three-time GRAMMY winner's lips. "My entire songwriting career is a gift," he states. "It only came about because of my lack of success in another field. I was a 27-year-old, out-of-work actor when I began writing for my own amusement. I had no training. I just borrowed a guitar and plunked out a few chords. I thought I invented them-I didn't even know they had names. Later, when I got signed as a contract writer at A&M and got my first piano, I literally wrote numbers on the keys, because I didn't know what they were called."
Trained or not, Williams and his various collaborators were soon placing songs with A&M artists. "It was a fortunate time," he remembers. "almost everything we wrote was getting recorded, though it always seemed to be album cuts and B-sides. It felt like I would never get a hit on the radio. Then Roger Nichols and I wrote 'Out in the Country,' a hit for Three Dog Night. and just as that was climbing up the charts, Richard Carpenter heard a song we'd written for a TV bank commercial, 'We've Only Just Begun.' He asked if we had a full-length version. Even if we didn't, we would have lied through our teeth and said there was. The two songs hit at the same time, and that got us a lot of visibility."
Literally, in Williams' case. Paul became a popular character actor, appearing in such films as The Muppet Movie, Beneath the Planet of the Apes, the Smokey and the Bandit series, and the rock-kitsch classic Phantom of the Paradise, for which he also wrote the music. Other Williams scores include Bugsy Malone and the Barbra Streisand remake of A Star is Born.
Elvis Presley, Diana Ross, Ella Fitzgerald, Ray Charles, Denver, Johnny Mathis, Sarah Vaughan, Bing Crosby, Garth Brooks, Gladys Knight, and Frank Sinatra have all recorded Paul Williams songs. "I would often write for specific artists," recalls Paul, "but the songs didn't always end up where I intended. For example, I originally wrote 'Old Fashioned Love Song' for the Carpenters. It poured out of me in about 20 minutes, and I raced over to play it for Richard.
But he didn't even listen to it all the way through before saying, 'nope, not interested,' so it wound up being a hit for Three Dog Night. And one of the first songs I ever wrote was 'Fill Your Heart,' the B-side for Tiny Tim's 'Tiptoe Through the Tulips.' Years later, David Bowie recorded it. And 'The Rainbow Connection,' a Kermit the Frog song from the Muppet Movie, is going to be the title song for Willie Nelson's next album! There's no way in the world I could have planned stuff like that. I guess a good song is like an un-dented ping pong ball-it may get lost in the grass for awhile, but then it just sort of pops up, and you use it."
Williams now spends much of his time in Nashville, where his talents have been embraced by a new generation of country artists. He's taken to writing on a Yamaha PSR9000 high end MIDI portable keyboard. "My first exposure to this instrument was through John Vezner in Nashville. He and I have been writing songs that we raffle off at charity auctions. We were working on a sort of anthem for the Salvation Army when I stepped away for a couple of minutes. When I came back, John had completed this amazing record, all on the 9000."
Williams switches on the keyboard and scrolls through preset rhythms. "Some of the auto-accompaniment features here are incredibly valuable to someone like me," he says. "It loosens me up, and the ideas start flowing. There's something damn near hypnotic about it." He dials up a bossa nova beat and adds a muted rhythm guitar sound. "I know I can write a smash to this beat, I swear to God. It's just amazing." He starts singing softly. "Ba da da da da da...and your mind starts slippin' away...."
"Hmm," he muses, "we just auctioned off another charity song to a woman who wants us to write about saving the elephants. I don't know anything about elephants yet, but I have a feeling that if you're going to write about elephants, you're going to need a good bossa nova beat...."
© 2023 Yamaha Corporation of America.