Choosing a Horn
Detachable bell
One piece or two pieces
Horns can come with two different bells-the detachable bell and the non-detachable bell. The detachable bell can be separated from the rest of the horn to allow the instrument to be packed away in a compact case, which is easy to carry.

It is said that, in general, horns with detachable bells have a deeper tone, and horns without detachable bells tend to have a brighter tone.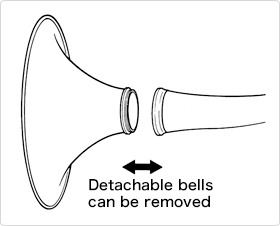 The telltale horn case
Horn cases are easy to spot-just look for the one with conical protrusions on either side. Horns without detachable bells require unique cases such as these to protect the bell.
The size of the bell affects the timbre
Bells sizes are given as the size of the part touched by the right hand during a performance, as is shown in the diagram at right.
| | |
| --- | --- |
| Narrow bell | Generally a bright, sharp timbre |
| Medium bell | Generally, a bright, yet deep timbre |
| Wide bell | Generally, a deep, rich expansive timbre |
Things to be careful about when attaching the bell
As long as you can align the threads for screwing the bell on properly, it is not important how you hold the bell itself. It can be said, however, that attaching the bell while holding it by the outer is not ideal for the following reasons.
Holding the bell by the outer rim makes it more difficult to align the threads when attaching the bell, and increases the potential of damaging the threads.
There is a higher chance of screwing the bell on too tightly and then not being able to detach it again if you attach it while holding it by the outer rim.
The safer way to attach the bell is to insert your hand into the bell much as you would when playing it, supporting it with both the palm and back of your somewhat cupped hand. If you use this method for attaching and the bell, it's easy to screw on and also easy to safely detach again later.
When detaching the bell, loosen the bell slightly to begin with while holding the outer rim, and then detach it the rest of the way by inserting your right hand and holding it by cupping that hand somewhat.