The Structure of the Oboe
The double-reed mechanism
What exactly is a double reed?
An oboe reed is made from shaving down an actual cane reed. The two reeds are placed face-to-face and are strapped to the metal pipe with strings. The oboe is constructed such that there is a piece of cork wrapped around part of it, and the cork is inserted into the upper section of the instrument.
The two reeds are curved subtly, and so there is a slight gap in the center when the two ends are stuck together. This allows the player's breath to pass through. During play, the reeds undergo minute vibrations, the gap between the reeds repeatedly closing and opening. (See the next section, "What mechanism produces the sound?")
The structure of the double reeds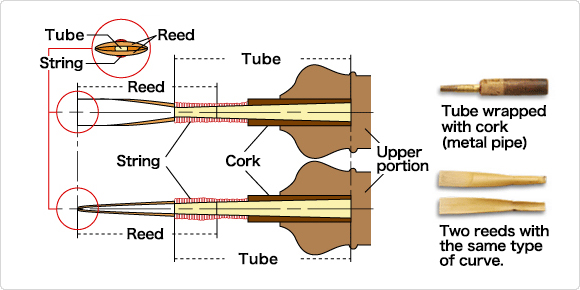 What mechanism produces the sound?
When a player puts the reeds into his or her mouth and blows into the gap between the two, the air pressure within the reeds drops and they start to close. The instant the reeds close, a sound almost exactly like hands clapping is produced and transmitted to the instrument, where the sound waves reverberate back from the tone holes and the opposite end of the oboe, opening the reeds up again and allowing breath to reenter. The closing and opening of the reeds is repeated at an incredible speed. The number of times the reeds open and close is the same as the frequency of the sound produced. When an A note is played at 440 hertz, the reeds open and close 440 times per second.