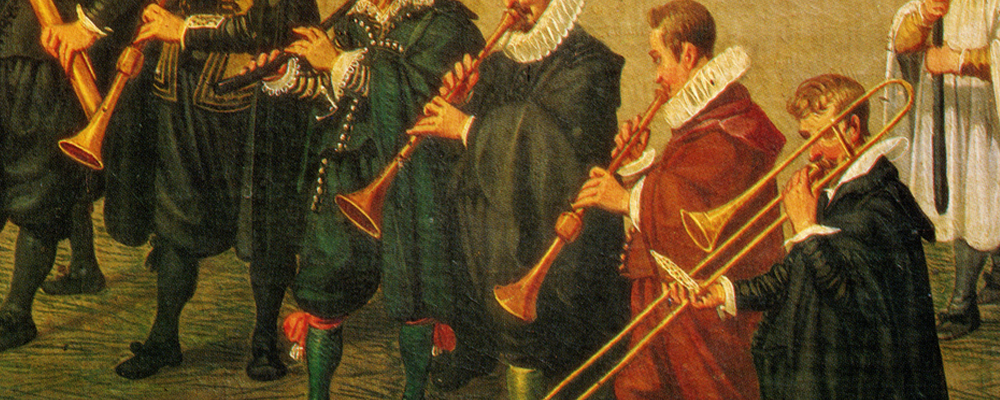 The origins of the Trombone
The birth of the trombone
What does drawing a sword have to do with trombones?
The trombone is said to have been created in the middle of the 15th century.
Until the 18th century the trombone was called a "saqueboute" (in French) or a "sackbut" (in English). Although opinions vary on the etymology, some sources (such as The New Grove Dictionary of Musical Instruments) suggest that the word comes from the French word "sacquer," which means to draw out (a sword or the like). The instrument may have gotten its name due to the action of sliding the tube out to lengthen it resembling a swordsman drawing a sword from a scabbard.
The current name of the instrument means "large trumpet." In German this instrument is called a "posaune," which originally meant "trumpet." This is because the trombone and trumpet are like relatives sharing the same ancestor.
The trombone: A sacred instrument?
Trombones have been used in a variety of situations, including the courts of aristocrats, churches, and in military bands. However, beginning in the 18th century the instrument was seldom used in secular music. Instead, it was used much more often in religious situations such as in church. Trombones have a range similar to that of the human voice and are capable of producing awe-inspiring harmonies during concerts, so they began to be treated as "divine instruments." Composers therefore are said to have refrained from using trombones in music outside of masses, oratorios, or other religious music.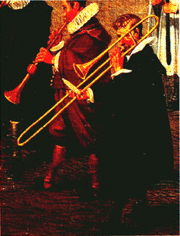 "Fate" changed the fate of the trombone
Beethoven was the first to use trombones-until that point seen as religious instruments-in a secular symphony. "Symphony No. 5 in C minor, Op. 67" ("Fate"), first played in 1808, was the first symphony in which a trombone was used. Beethoven would go on to use trombones again in "Symphony No. 6 in F major, Op. 68" ("Pastoral Symphony") and "Symphony No. 9 in D minor, Op. 125" ("The Choral"), building a foundation for the trombone to stand as a fixture in orchestras in the 19th century.