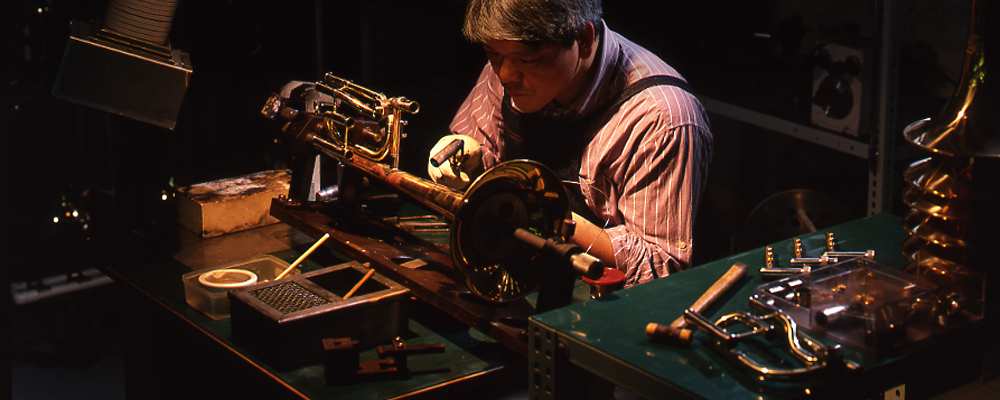 How a Trombone is Made
The slide must be straight-no exceptions!
At 70 cm long, a curve of even 0.2 mm is unacceptable!
The slide of a trombone is a straight piece of tubing that is roughly 70 cm long and quite thin (0.25 mm thick). The gap between the outer slide and inner slide has a radius of only around 0.1 mm. Therefore, in order for the tubing to slide smoothly, all four pipes (two for the outer slide and two for the inner slide) must be perfectly straight and parallel. For a 70 cm tube, an end-to-end curve of even 0.2 mm would render it useless.
The outer slide and inner slide are gold and silver in color, respectively
The process whereby a precision tube is created is called "tube drawing." The photo below shows an inner slide being made. The shiny silver tube is the inner slide.
Silver-colored brass (a copper and zinc alloy) is used to create the outer slide of a trombone, while a metal that combines brass and nickel called "nickel silver" is used to create the inner slide.
The finish is finely adjusted by a craftsperson
After the slide has been manufactured by an ultra-precise machine, a craftsperson visually checks the piece. He or she uses a tool called a surface plate to make sure the pipes are straight and parallel.
If they are warped, the craftsperson will then apply a subtle amount of force by hand to bend it into shape. This work requires the skill of an experienced craftsperson.