The Structure of the Trombone
The trombone: The instrument that extends and retracts
How exactly does a trombone extend and retract?
One interesting thing about trombones is how they extend and contract. But what allows these instruments to do so? Put a trombone to your lips and just look straight ahead for your answer: you'll see two parallel tubes right in front of your face. These two tubes (the outer slide and inner slide) form what is called the slide.
Trombones are played by holding the instrument to your lips with your left hand, gripping the brace right in front of your left hand with your right hand, and sliding the slide back and forth. It is therefore extremely important that a trombone's slide moves smoothly.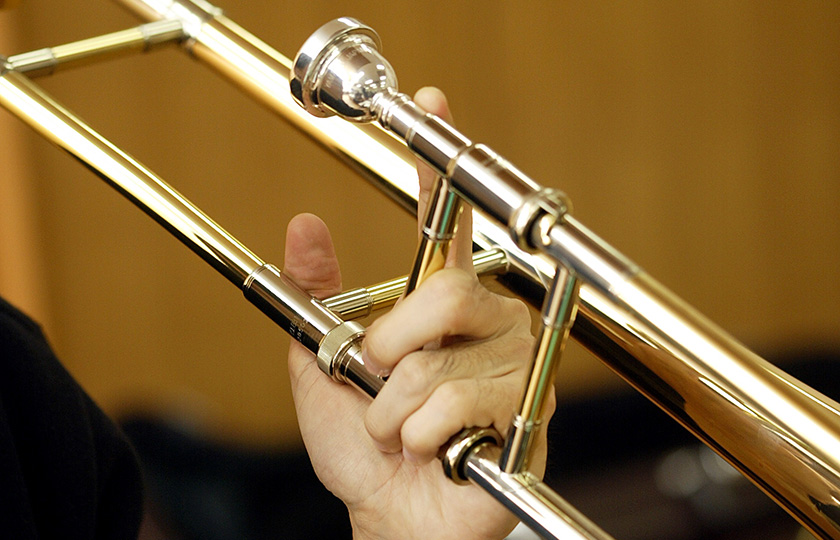 Be careful not to drop it!
If you slide the slide out too much it will detach from the instrument. The outer slide and inner slide are just inserted into the instrument; there is nothing holding them in place. Therefore, if you aren't careful and let go of it, the outer slide could fall to the ground under its own weight. The slide is designed like this for a reason: the player needs to be able to slide it back and forth very smoothly to play the instrument.
Totally smooth pitch changes
The slide on a trombone enables the player to change his or her pitch in a truly smooth and "stepless" fashion.
For example, in the piano there is a very clear delineation between C, D, and F. Although any given black key and its neighboring white key have a half-tone difference, a trombone is capable of producing quarter-tones (one half a half-tone) and even eighth-tones (one half of a quarter-tone).
The slide can produce beautiful vibrato
Thanks to its slide, the trombone can produce a very unique vibrato. By finely adjusting the pitch, the player can make the sound appear to "flutter." Vibrato produced from the action of the slide is one of the most recognizable characteristics of the trombone.