The Structure of the Drum
[Experiment3]Using alternative materials for the snare
Performing a sound experiment
What happens to the tone of the snare drum when different materials are used for the snare? We used different materials for the snare and conducted an experiment.
Experiment steps
Make snares using different materials.
Attach these snares to the snare drum in succession.
Strike the drum head with a drumstick and listen to the sound.
Results of the experiment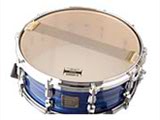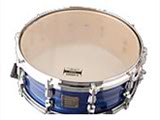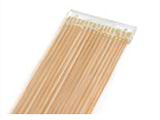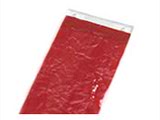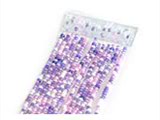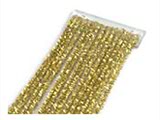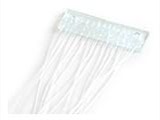 *As this was an experiment, the recorded pitches differed from the correct notes.
We made a snare from any material that came to mind. The linen thread had no effect on the tone. The rubber also had no effect. We expected the cellophane to make a light rattling sound, but it also had no effect. Beads strung on fishing line were two heavy, so the line sagged in the middle and did not make good contact with the bottom head, and so there was only a little change in the tone. The gold braid made a slight rustling sound. The fishing line had an unexpected result and made a sound similar to that of a real snare. Compare this to the sound of a snare drum without a snare.

When the head of the snare drum is struck, the bottom head bulges outward and comes into contact with the snare and makes a sound. Thus, the snare must have a certain weight and be able to stretch and shrink. This is why coiled wire is perfect for use in a snare.
Of the materials we tried in this experiment, the fishing line worked the best. In fact, a long time ago in Europe, snares were made with gut strings made from a sheep's intestines, and nylon gut strings are used even today. Coiled wire only makes partial contact with the head, while the gut strings make full contact, giving them a completely different tone.
Though the snare material is important, the angle of the plate that brings the snare into contact with the head is also very important. If various changes are made to the plate, a better sound can be obtained.