Trivia
A transparent clarinet?
Yamaha's custom studios have made a transparent clarinet out of acrylic for experimental purposes. It has proven extremely popular with clarinetists who have tried the instrument, on account of its impressive sound. Aside from the sound, however, since the tube is transparent, you can see vapor from the clarinetist's breath sticking to the tube after he has blown into the instrument, and see the inside go a cloudy white with droplets of water trickling down. The water droplets will sometimes trickle down while the instrument is being played; however, with the clarinet this is simply vapor from the breath of the clarinetist which has turned into droplets of water. It is not in the least bit dirty.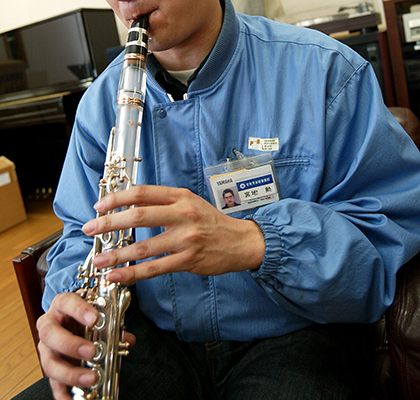 It can clearly be seen that the water droplets cannot be cleaned away by just wiping them once. Instead, running a cleaning cloth through the tube around three times will remove them properly.