How the Clarinet is Made
Making the Body
The wood is allowed to dry for several years
Grenadilla, which is the raw material for the clarinet, is allowed to dry for several years. Both natural drying and kiln drying are used.
The processing of the body
Holes are cut in the dried rectangular wood using a machine and the wood is shaped by cutting the corners off.
Polishing the surface
The body is polished using Yamaha original oil in order to preserve the natural sound quality of the grenadilla and the texture of the wood, and to protect against cracks in the body due to the effects of moisture. After the surface has been treated, it is wiped clean of any excess oil.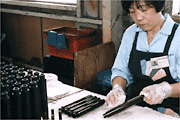 Putting in the tone holes
A machine is used to insert tone holes in the body and to cut out the inside of the body (this is known as undercutting). Since this process has a major influence on the timbre of the clarinet, the craftsman carefully makes fine adjustments by hand to produce a top-quality handmade model.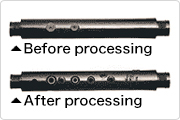 Putting in the tone holes