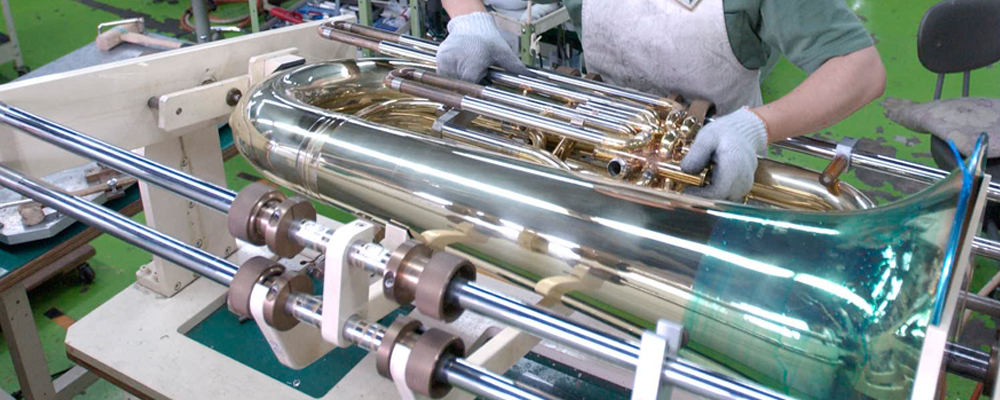 How a Tuba is Made
Making the Body
The first step is to shape the tube into a cone
The entire length of a tuba is conical, so the craftsman must begin by giving the tube this shape. There are various ways of doing so, such as cutting a fan shape from a sheet, then rolling it; or making a cone from a cylindrical pipe.
Turning a cylinder into a cone
If you try to immediately form a cone from a cylindrical pipe, the metal will wrinkle or fracture. You must first heat and shrink one section of the pipe then insert a slightly thicker item to widen the opposite end. From there, a smooth cone can be produced.
Bending it in one powerful movement!
The beautifully manufactured cone is actually crushed in order to bend it. This dramatic bending, however, does not create any angles. As the photograph shows, the tube is bent so that the squished section faces outward.
Using bulge forming to beautifully inflate the tube
The bent and crushed tube is fit into a metal mold, then water is pumped in from one end while the other end is plugged. Pressure is applied to inflate the tube nicely. This is called bulge forming. The process of bulge forming is the same for smaller cones.
Some bending is also done by hand
Not only for tubas, but for other brass instruments as well, there are various ways to bend the tubes. The most old-fashioned approach is for a craftsman to do it by hand. For low volume, high-end models and prototypes, a well-practiced technique using leverage is the preferred choice. The craftsman has to employ skill and intuitive judgment to apply the right force at the right angle. The wood block shown in the picture is used to gauge the progress.
A technique for making a tube from two sheets
The tube can also be made by hand without using a mold. Two large metal sheets are cut and lined up, top and bottom, so that they can be welded. After welding, the joints are hammered flat and a metal bar is used to gradually bend the tube. A vertical bar is used on the inside while a horizontal bar intersects from the outside to massage the pipe into the right shape. A curved bar is also used to get the inside and outside to just the right specifications. This approach requires a very skilled craftsman indeed.