The Structure of the Saxophone
What is the reed?
Making sound by vibrating the reed
The sound of a saxophone is generated by vibrating the reed attached to the mouthpiece, which the player puts in his mouth. Instruments that make sound in this way are called reed instruments. The oboe and clarinet are also members of the reed instrument family.
What is the reed made of?
The reed is made of the cane plant.The cane has a hollow stem and grows to full height in one year. To make a reed, cane is cut to the proper length, cut along the length into four parts, and then shaved.
Because reeds are made from a natural material, no two reeds are exactly the same. This is why it is so important to choose the right reeds for the best sound. Take the time to learn how to choose reeds well.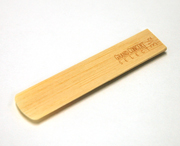 Attach the reed to the mouthpiece
Place the reed on the mouthpiece with the flat side touching the mouthpiece, then tighten the ligature to hold it in place.

The mouthpiece, reed, and ligature form the sound generating portion of the instrument, and so they have a large influence on the quality of the instrument's sound. They will also affect the feel of playing the instrument.
Reeds don't last long
The closer a part of the instrument is to the mouth of a player, the stronger its impact on the sound. This is why the reed is one of the most critical parts. Expect a reed to last for around a week to two weeks. When you change from a reed you've been using for some time to a new reed, the sound of your instrument will change with it.