How to Play the Bassoon
How to play
Using all ten fingers
With other wind instruments it is common to use the thumb to support the instrument, but the bassoon is unusual among wind instruments as all ten fingers are used to play. The role of the thumb is particularly distinctive, and there are at least ten keys that can be operated using the thumb of the left hand.
Let's watch the clip to see how the keys are used.
Producing the same sound but with different fingering ...
On the bassoon, there are many ways to produce notes of the same pitch but using different fingering. By changing the fingering used, it's possible to produce sounds of the same pitch but with a more gentle timbre, or soft, "pianissimo" sounds. For that reason, searching for new fingering combinations is something that bassoonists often enjoy. Learning obscure, secret fingering combinations from teachers and more experienced players can be something akin to an initiation into the bassoonist's craft!
Let's listen to five variations of an E♭ and three variations of an F♯, each produced with different fingering.
The octave leap, a distinctive technique
The ability to "jump" up by one or two octaves during play is a feature of the bassoon's musical capabilities. Let's listen to the bouncing, "staccato" sound.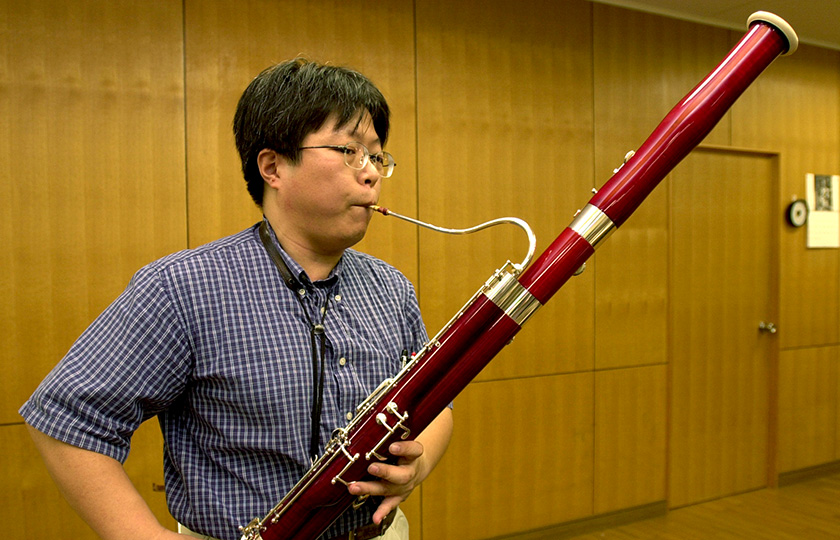 Musical scores easy to read on the C clef
The treble clef and bass clef are not uncommon, but there may be many people who have only rarely read musical notation on the C clef, or who have never seen it at all. When drawing a treble clef, we start from the G line, the bass clef starts from the F line. The pointed central part of the C clef points at middle C. For the bassoon, which has a range that extends over three octaves, a musical score that is usually written on the treble clef would soon extend into horizontal "ledger lines" for high-pitched notes, and become difficult to read, so is instead usually transposed onto the C clef. The C clef is also referred to as the alto clef, or the tenor clef, depending on the vertical positioning of the staff location. The diagram shows how the same three notes, of C, G and high C, appear when written on the four different clefs.