The Structure of the Timpani
Construction of the timpani
How do you change the tension of the head?
The method used to change the tension on a drumhead depends on the style of the timpani.
Hand-tightened timpani are tightened in the same way as ordinary drums, by tightening each tuning bolt by hand, one at a time. In timpani with handles, simply turning the tuning handle adjusts all of the tuning bolts at the same time. Pedal-type timpani can be tightened by moving the pedal with your foot to change the head tension, thus changing the pitch.
How the pitch is changed on a pedal-type timpani
On pedal-type timpani, the head will tighten when the pedal is depressed (producing a higher pitch), and the head will loosen when the pedal is loosened (producing a lower pitch). For performance, a feature to hold or maintain the tightness (pitch) of the head, according to the adjustments made using the pedal is necessary.

In the case of the pedal timpani that uses balanced action, the spring inside of the base tightens at the same time that the pedal is depressed. This makes the spring tension and the head tension equal, which silences (holds) the pedal.
Other types use a clutch or ratchet system to stabilize (hold) the pedal, which is used to adjust the pitch.
Pedal-type pitch change mechanism

Suspending the kettle in the air with a suspension ring
With a pedal timpani that changes its pitch by moving the hoop up or down, if the kettle moves, the pitch change becomes unstable. For this reason, a metal ring called a suspension ring is used to support the kettle. Also, hanging on the suspension ring prevents the kettle from coming into contact with the frame or any other parts, resulting in better vibration.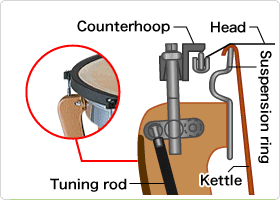 The kettle creates a strong sense of pitch
Timpani create a sense of pitch because they are constructed differently from ordinary drums. Drums use two heads, one on the top and one on the bottom. When the top head is struck, the vibration is transmitted to the bottom head through the air inside the drum. The heads influence each other, which makes it easy for the heads overall to vibrate strongly (see left side of figure). This vibration is what gives drums their strong sound of attack.

Conversely, in timpani the vibration when the head is struck interferes with the vibration of the air inside the kettle. As a result, vibrations in the head overall are less likely to occur, with multiple vibrations that alternately vibrate up and down occurring on the head (see right side of figure). Timpani kettles are designed so that these vibrations occur at integral multiple frequencies, which adds a sense of pitch to the sound of the timpani. Each has a different structure so that they can take on different roles.