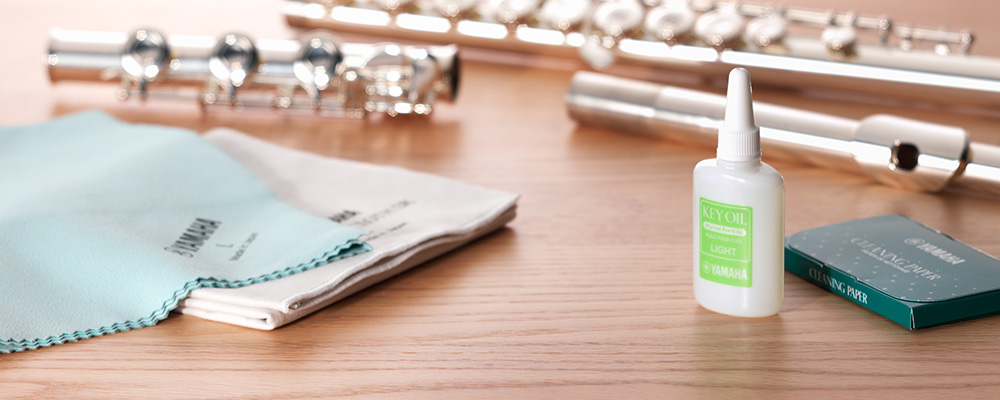 Care and Maintenance of a Flute
Care and maintenance after playing
Removing moisture from the body of the flute
Pass the end of the polishing gauze through the hole in the tip of the cleaning rod.
Wrap the polishing gauze around the cleaning rod so that the metallic part of the cleaning rod's tip is not exposed.
Remove the moisture from the main tube of the flute by turning the rod in the same direction as the direction in which the cloth is wrapped around the rod.
* The head joint of a flute cannot be cleaned with a swab, so there are no swabs for flutes. The body and foot joints, however, can be cleaned using clarinet swabs.

Removing moisture from the pads
If the pads are damp after the instrument has been played, remove the moisture from the pads by inserting cleaning paper into the spaces between the pads and the tone holes.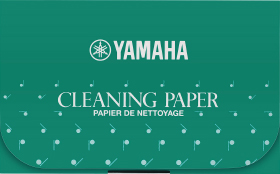 Insert cleaning paper between the pad and the tone hole, and lightly press the key a few times. Repeat this operation two or three times, applying the paper to different spots on the pad.
* Be careful that the action of pressing the key does not displace the paper.
* If the pads are sticky, use powder paper on them.
Removing dirt from the surface of the instrument
Gently wipe the length of the body of the flute with a polishing cloth, taking care not to apply pressure to the keys.
It's crucial that a flute be played every day to prevent discoloration. If dark spots appear on the surface of the flute that can't be wiped off with a polishing cloth alone, it may be effective to use a silver cloth and or silver polish, which are sold separately. This discoloration on the flute is silver sulfide, a product of the silver on the surface of the flute combining with sulfur components in the air.