Care and Maintenance of a Flute
Periodic maintenance
Thorough weekly cleaning
Thoroughly clean the underside of the keys using a tone hole cleaner.
The tone hole cleaner has an inner core of wire and a soft, lacy outer surface. It can be twisted into shape, making it easier to use.
Monthly care and maintenance
Inspecting the keys
Screws may naturally loosen on their own. Check the condition of the keys and tighten the screws, if necessary.
Applying key oil
Apply a small amount of key oil to the moving parts of the keys. Be careful not to use too much oil. After applying the oil, press the keys to properly work in the oil.
Be sure to completely wipe off any residual oil adhering to the surface of the keys.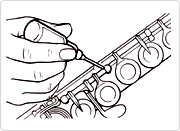 The joints need to be cleaned, too
If you feel that joints are getting stiff, then you should wipe them with a cloth to remove any dust, dirt, and debris. When you do this, be sure to wipe not only the outside of the joints on the pipe, but the inside as well, on both the body joint and foot joint. If the flute is very dirty, wiping it with a silver cloth will remove any fine dirt. If even that doesn't work, talk to someone at a musical instruments store about what to do.
Since the joints of the flute are made of fitted metal, never put cork grease or any other kind of grease on them. The joints of the flute are adjusted to have clearances of mere microns. If grease gets on the joints, dirt and dust will adhere to them, which can end up damaging the joints and in severe cases, they may get stuck together.