How a Flute is Made
Assembly and finishing
Almost finished!
Test assembly and final fitting
The keys with pads attached to them are test-fitted to the body, in order to check that they move smoothly and steadily. The head joint and the foot joint are then fitted to the test-assembled body.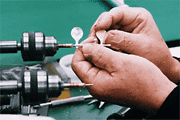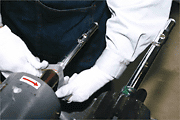 Seasoning
The flute is stored in a room that is maintained at a specific temperature and humidity, in order to allow the pads and tone holes to acclimatize.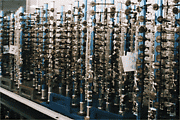 Adjustment
Fine adjustments are made to the angle and spacing of components, such as the key posts and pads, so that they are securely attached.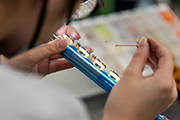 Inspection
A rigorous functional inspection is carried out to test the instrument's sound, sound quality, pitch, and playability.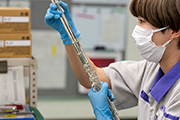 Polishing
The keys and body of a flute which has passed the rigorous inspection are polished to a shine and the instrument is shipped.
*Why is the surface of the flute light blue?
The reason why the surface of the flute appears light blue in the photograph is that flutes are wrapped in protective tape before they are shipped, to protect them from scratching and dirt.