Care and Maintenance of a Trumpet
Monthly care and maintenance
Cleaning the valve casings
Wrap a polishing gauze around a cleaning rod so that the metallic part of the cleaning rod's tip is not exposed, and use it to wipe dirt from the inside of the valve casings.
Wipe dirt off the pistons using a polishing gauze. Insert the pistons into the valve casings and apply two or three drops of valve oil to the valve casings.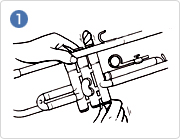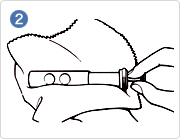 Cleaning the inside of the body of the instrument
Make up a solution of brass soap, consisting of 10-15 parts warm water (30°C-40°C) to one part brass soap.
Soak a flexible cleaning brush in the brass soap solution and use it to wash the inside of the tube.
After removing the dirt, use clean water to wash off the brass soap. Thoroughly dry the inside of the tube using a gauze and then apply oil or grease. After removing all moisture with gauze, apply oil and grease.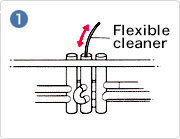 Wipe the instrument clean before changing oil types
After cleaning your instrument you should use one type of valve oil until the next time you clean the instrument. When changing valve oil types, washing away or wiping off any old oil from within the piston and the valve casing will allow the most to be made of the new oil's properties. Depending on the oils, mixing oils together may cause stickiness and prevent the true benefits of the oil from being obtained.
This is also true for products from the same company. For example, Yamaha Valve Oil and Yamaha Valve Oil Light feature the same basic ingredients but differ in the small amounts of additives, etc. used. If possible, we recommend that you wipe off old oil and clean the instrument before using different oil.
Replacing the cork on water keys
Water key cork becomes soft due to water absorption with extended use. Left as-is, the cork will become damaged so that the key is unable to fulfil its role, so it's best to replace it. You can purchase cork as a standalone product at musical instrument stores. Simply use quick-setting adhesive to attach cork to water keys.