The origins of the Recorder
Varieties of recorder
Recorders of all sizes, from small to large
From the sopranino recorder, which is about the size of a mechanical pencil, to the contrabass recorder, which is twice the length of a bass recorder, recorders come in many varieties.
In particular, the type most frequently used for solos is the alto recorder, and Baroque period solo sonatas and concertos as well as the majority of contemporary sonatas are written for the instrument.
Also, in general, ensembles are quartets that perform with the four types of recorders; soprano, alto, tenor and bass.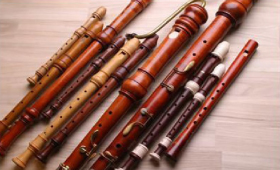 Bass recorders as big as furniture
As the pitch range of a recorder gets lower, the size of the recorder increases.
The great bass recorder in the picture is as big as a piece of furniture.
Great bass recorders are twice the length of tenor recorders, and there are also contrabass (sub bass) recorders, which are twice the size of bass recorders.
Because they are so big, bass recorders and great bass recorders cannot be blown directly with the mouth as with a smaller sized instrument. For that reason, a long pipe (blowpipe) extends from the sound generating part of the instrument to the lips. Furthermore, as the gap between tone holes is wider, keys are added for the locations where they cannot be covered directly with the fingers.
However, since the blowpipe is just a simple structure to channel the breath, anyone can quickly produce sound, and the fingering is almost entirely the same.
That said, although the fingering is the same, the sound produced does vary depending on the type of recorder.
There are many types within the soprano recorder family (including the soprano, tenor, great, sub contra and others) and alto recorder family (including the sopranino, alto, bass and contrabass), with each of these types one octave higher in pitch than its predecessor.
If one looks at the difference in pitch intervals between the instruments of each different size, the bass is a fourth above the great bass, while the tenor is a fifth above the bass.
From low notes to high, that various pitch ranges can be enjoyed is one of the appeals of the recorder.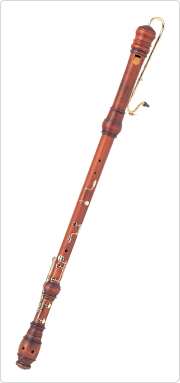 The range of the recorder
There are also one-handed recorders
There are also one-handed recorders that use a key system, like that of a flute or saxophone, so that they can be played using all five fingers of just one hand. Also accessible to those with impaired hand function, it is a recorder made in the hope that everyone can enjoy making music.
Musical Instrument Guide : Recorder Contents