Established in 1987 in New York City, Yamaha Artist Services, Inc. (YASI) provides a wide range of professional services exclusively for performing artists, concert venues, performing arts organizations and educational institutions, representing an unparalleled commitment to the music industry and an invaluable resource for musicians, presenters and educators worldwide.
Since 2005, Yamaha Artist Services New York has been located in the heart of midtown Manhattan on Fifth Avenue and 54th Street, in an historical landmarked 1925 building which originally served as Aeolian Hall, the headquarters of the Aeolian Piano Company. Designed by Warren & Wetmore, the architects of other notable buildings in New York City (Grand Central Terminal, the former Steinway Hall on 57th St.,) the building later became the headquarters for Elizabeth Arden. Occupying over 4,000 square feet, the Yamaha Artist Services Piano Salon features an elegant performance venue seating up to 90 and houses a large selection of concert-ready Premium Pianos of various sizes, including the acclaimed Yamaha CF series (CFX, CF6, CF4,), Bösendorfer, and Disklavier instruments, as well as the innovative AvantGrand hybrid and TransAcoustic pianos. Led by Yamaha's Chief Concert Technician, Yamaha Artist Services also provides outstanding technical support for concert venues and artists throughout the United States.
The Piano Salon is a state-of-the art, acoustically and technically adaptable environment. It features a wide-screen projection system with custom NEXO stereo sound, remote control cameras and a Newtek Tricaster system for video capture and live broadcast, and a 128 channel Dante-equipped Nuage recording and mixing console for professional audio recording and post production. The Piano Salon also features Yamaha's Active Field Control system (AFC), which uses sound processing technology to optimize room acoustics to suit the desired size of a performance, and can recreate authentic acoustic simulations of other performing arts venues.
It is a versatile space hosting instrument selections for artists, concert venues and educational institutions; rehearsals, recitals, auditions, masterclasses, press receptions, lectures and film screenings. The Piano Salon has been at the forefront of showcasing Yamaha Disklavier RemoteLive and Remote Lesson technologies, a groundbreaking and innovative way of delivering a live performance or pedagogical experience by linking two or more Disklavier pianos together, anywhere in the world, in perfect synchronization with video streaming.
Yamaha Artist Services New York works in close collaboration with other Yamaha Artist Service centers throughout the world, including those located in Japan, China, Russia and Europe, ensuring the seamless and unwavering support of Yamaha Artists internationally, wherever they are performing.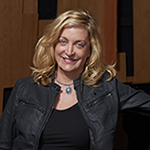 Bonnie Barrett: Director
An accomplished music industry executive, Bonnie Barrett has an extensive background including artist management, recording and musical instrument companies. Committed to promoting music, musicians and musical instruments at the highest artistic levels, Ms. Barrett has worked with many of the world's foremost performing artists. She began her career in artist management (CAMI), followed by executive positions of increasing responsibility in the recording industry (Sony, EMI, BMG) in media relations, sales, marketing and A&R. Prior to joining Yamaha, Ms. Barrett served as Director of Concert and Artist Relations for North and South America, for Steinway & Sons. At Yamaha, Ms. Barrett has helped restructure the company's artist relations program, most notably through the strategic expansion of its classical and jazz piano artist roster. She has leveraged her music industry acumen and network to strengthen Yamaha's relationships with classical and jazz performing artists, distinguished educators, concert presenters, and the music industry at large. She has been Executive Producer of several groundbreaking DisklavierTV recordings and broadcasts, produced live concerts and events and cemented new relationships with major international music festivals, concert venues and educational institutions.

Hilary Jansen: Artist and Media Relations Manager
As Artist and Media Relations Manager at Yamaha Artist Services, Hilary manages publicity for Yamaha artists, pianos, and venues nationwide, and oversees YASI's website and social media platforms. Alongside her work at Yamaha, Hilary is currently pursuing her doctoral degree in Musicology at the Graduate Center of the City University of New York. Her dissertation explores community engagement with symphony orchestras in the United States, and looks to find ways in which classical music can seek to be a vital and dynamic element of everyday life. Prior to joining Yamaha she worked in publicity at Boosey & Hawkes music publishing, and in artist management at Barrett Vantage Artists. In addition, she spent three years on the adjunct music faculty in the Department of Fine and Performing Arts at Baruch College. Hilary has an undergraduate degree in music from Colby College, and a Master's degree in piano performance from the Longy School of Music.


Makia Matsumura: Operations & Technical Specialist
As Operations & Technical Specialist at YASI, Makia is responsible for the concert reserve piano fleet management nationwide, as well as for providing technical expertise related to Yamaha Disklavier Pianos and its proprietary DisklavierTV and RemoteLesson technologies. An avid pianist since an early age, Makia has been also active as a silent film accompanist for the last 10 years, garnering high praises at renowned film theaters and museums in the US, Canada, Europe and Japan, including the Museum of Modern Art, the Film Society of Lincoln Center, the Film Forum, the New York and the Brooklyn Public Libraries in New York City, as well as the celebrated George Eastman House in Rochester, NY. After receiving her Bachelor's degree in composition from the Tokyo University of the Arts, Makia went on to receive her Master's degree in composition from the Juilliard School, where she studied with Christopher Rouse, Samuel Adler, Edward Bilous, and Mari Kimura.


Shintaro Hoshino: Senior Technical Manager/Chief Concert Technician
Shintaro Hoshino is Senior Technical Manager/Chief Concert Technician for Yamaha Artist Services, where he oversees the maintenance of our premium concert reserve pianos and leads a team of highly-skilled, concert-level technicians. Revered by artists, Shintaro Hoshino is the technician of choice for many of the world's most in-demand classical and jazz pianists, and his work can be heard both in recordings and on concert stages across the country. Shintaro Hoshino is also an admired and highly-respected teacher, and prior to his appointment at YASI, was an instructor at the Yamaha Corporation Piano Technical Academy in Kakegawa, Japan.




Aaron David Ross: Audio Visual Specialist
Aaron David Ross is a musician, technologist, and new media artist based in New York. Armed with a strong background in composition, production, music technology and studio techniques, Ross's solo and collaborative electro-acoustic music projects have been presented to international audiences with much critical acclaim. An MFA graduate from the esteemed Sound Arts program at the School of the Art Institute of Chicago, Ross's musical and technological vocabulary spans from composition and live performance to engineering & recording, programming & networking, design, installation, research practices, and audio-visual systems development. With a decisive interest in Disklavier extended techniques, Ross joined the Yamaha Artist Services team in 2013.



Get in Touch
Join Mailing List