Experience the pure thrill of performing for an audience with the Yamaha Clavinova!
Every single hour you spend practicing at the piano finally pays off when you take center stage at the Yamaha Clavinova Festival. Your poise and technique give the music new brilliance and inspire the most exciting sound of all: applause.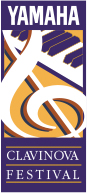 Perform any song you'd like at the Clavinova Festival: debut your own composition, or choose an old favorite in any musical genre. There are only two rules: you must play a Yamaha Clavinova CVP digital piano and you must have fun!

Fortunately, the Clavinova CVP is all about fun. Beyond the acoustic-style weighted action keyboard, its amazing accompaniment Styles, incredibly sweet instrument sounds, and creative digital effects turn ordinary piano pieces into extraordinary masterpieces.

Your music teacher can help you build an arrangement for your song with the Clavinova's unique, powerful features. Show off your skills and revel in the exhilaration of the Yamaha Clavinova Festival, the showcase for your musical talents! Sign up today.

Everyone enjoys the Clavinova Festival and Clavinova Fun Fest: the participants, because of the exciting opportunity to perform, and the audience, because of the remarkably exciting program of original, classical and popular music.