---
---
Meet the CF6
Scroll down to view more information
The CF Series pianos are characterized by a wide palette of tonal colors and the ability to create the most subtle, expressive nuances. They can "sing" phrases with a depth of expressiveness rarely heard. The 7' CF6 sounds remarkably like a full length concert grand with its rich open sound, and its action is quick and responsive.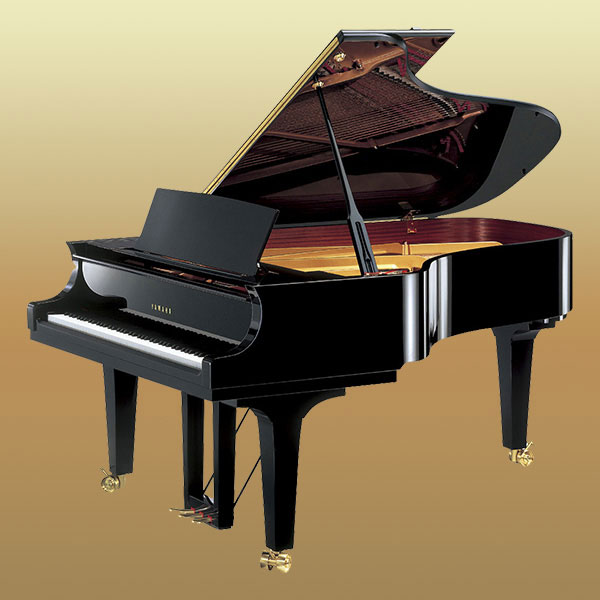 Key Features
---
Handcrafted in the Yamaha Concert Grand Factory with more than a century of experience in grand piano production.
The vertically integrated production guarantees full control over each component of the piano.
Special crown construction enables wide-ranging vibrations that create rich and highly resonating sounds unifying "Beauty and Power".
Premium Yamaha designed hammers are produced from the world's highest-class felt under the most stringent quality control to retain their shape and superb elasticity even after thousands of impacts.
The open pinblock design provides exceptionally clear and warm nuances to the attack tone.
The tone collector system connects the radiating back posts on one end with the cast iron frame, and permits it to smoothly transmit soundboard vibrations throughout the entire piano.
Dovetail joints create an extremely strong connection between the inner rim and the back posts.
Duplex scaling achieves optimal overtone structures.
The properties of the hand molded CF Series frame results in a refined tone.
Hand-made solid copper-wound bass strings enable a richly resonating and clear bass tone.
Extremely wear resistant Ivorite™ keytops have the characteristics and feel of natural ivory.
Black keys are capped with real ebony for a perfect feel and touch.
Specially designed pinblock made of bubinga and maple for ideal tunability and tuning stability.
Soft-Close™ fallboard.


Heavy duty double-wheeled solid brass casters with locks.


Seasoned for destination
Disklavier Education Network
---
The Disklavier Education Network (DEN) is the hub for Disklavier educators and enthusiasts. Explore to see how your Disklavier can offer master performances, distance learning and even auditions!
The convenience of DisklavierRadio and Disklavier TV
---
One of the Disklavier's greatest features is the exclusive ability to transport you to the front row of concerts thousands of miles away without ever leaving your living room! DisklavierTV™ perfectly synchronizes video and audio with MIDI data streaming over the Internet so you can watch a musician perform live on TV while actually playing your piano! Yamaha Piano Radio offers a truly unique listening experience; it's like having an artist-inresidence play your favorite songs and the music of your favorite artists whenever you want – 24 hours a day, seven days a week. Piano Radio streams piano music directly through your instrument.

Click here for more information about DisklavierTV
Specs
---
Measurements
Length : 212cm (7')
Width : 159cm (63")
Height : 102cm
Weight : 902lbs