Rock Tour Rebel: Justin Sims
Hometown: Columbia, South Carolina
Preferred Configuration: 22" Bass, 10" Tom, 14" & 16" Floor Toms, 14" Snare
Favored Appearance: Green Textured Ash Finish
Affiliation: Ben G, Independent, Crane, PictureMeFree
Connection: simsgroove.com
Justin Sims Biography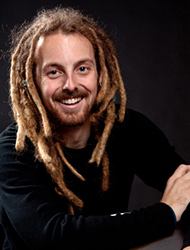 "It's all about the groove..." It's not just a slogan. It's a way of life that Justin Sims embraces everyday when he wakes up and does what he loves to do: play the drums.
Growing up in Columbia, South Carolina as the son of a well-respected musician, Justin has been surrounded by a diverse music environment his entire life. His dad, guitarist Jerry Sims, introduced Justin to all different types of instruments, but one took precedent over all the others. From the time he began playing in his church at the age of 10, rhythm and percussion has become an integral part of who he is today and the person he will become. After studying under many music teachers and playing in numerous bands with friends as a teenager, Justin attended Clemson University, where he was named the university's 'Outstanding Student in Performing Arts,' a prestigious award given to only one student each year. Sims attended the 2005 Percussion Festival at Boston's Berklee College of Music, where he learned from and performed alongside some of the most esteemed music professionals in the world. He graduated in 2008 with a BA in Production Studies in Performing Arts, focus in Percussion. It was during these formative college years that he polished his many skills and saw the door of opportunity open wide.
Realizing that his classroom experience alone was not fulfilling in its own accord, Justin became a regular in the downtown Clemson music scene beginning in 2006. After a year of meddling around with a few experimental bands, he found a stable home in the newly formed PictureMeFree, with whom he remained until their separation in 2010. In their three years as a band, PictureMeFree transformed from a local bar band into a respected outfit that opened for world-famous acts Blues Traveler, Colbie Caillat, The Marshall Tucker Band, and Perpetual Groove. With their eclectic sound and contagiously energetic live-show, PictureMeFree's 'one-love' music entertained thousands of fans and dedicated followers at over 400 shows. Along the way, they also released two EP's (Wake Up Alive & Never Let Go).
Since the disbandment of PictureMeFree, Justin has begun to focus his efforts on other musical ventures. Currently, he can be seen traveling throughout the Southeast playing shows with several different bands. Also, he is in the studio whenever possible working with other artists on projects. Exploring different avenues of music have allowed Sims to meet a number of contemporaries to share his talents with, and adaptability to all styles have other musicians wanting to perform with him.
"You have to be willing to study musicians from all different eras and genres to create your own unique sound," says Justin, who lists such luminaries as Steve Gadd, Steve Jordan, John Blackwell, and Stanton Moore as his influences. It is from listening to and learning from distinguished percussionists like these men that Sims has gotten caught up in the 'groove' that defines his playing style so well. His dream is to one day be mentioned in the same breath as them.
Like all of the great drummers, Justin takes pride in being the backbone of his band. "As the drummer, the heartbeat, you should never recognize me, but you should always feel me," he says. This statement comes off as a bit ironic, considering his highly recognizable dreadlocks, but Sims would much rather have his playing speak for itself. Never one for flamboyancy, his technical skills have allowed Justin to set himself apart at a young age.
Justin's musical talents have assuredly not gone unnoticed. After hearing him play individually and with PictureMeFree, Yamaha quickly signed him to endorse their new Rock Tour drum set. As one of only 4 'Rock Tour Rebels' worldwide, Sims will exclusively play the new set and have videos of his work located on the Yamaha website. He was also given the privilege to perform for Yamaha at the 2009 National Association of Music Merchants (NAMM) convention.
With his high level of natural ability and a determination to continually improve himself, it is no wonder that Justin Sims has accomplished so much at the age of 24. He has a bright future ahead of him in the music industry and his career is one to keep an eye on. Soon everyone will see the true talent Yamaha recognized when they signed this young artist.

Tour Dates
May 6th
@ The White Mule w/
The Black Iron Gathering
Columbia, SC
Justin Sims Photo album
Justin Sims Video
Now Playing: Crane performs "Sasha"
More Videos